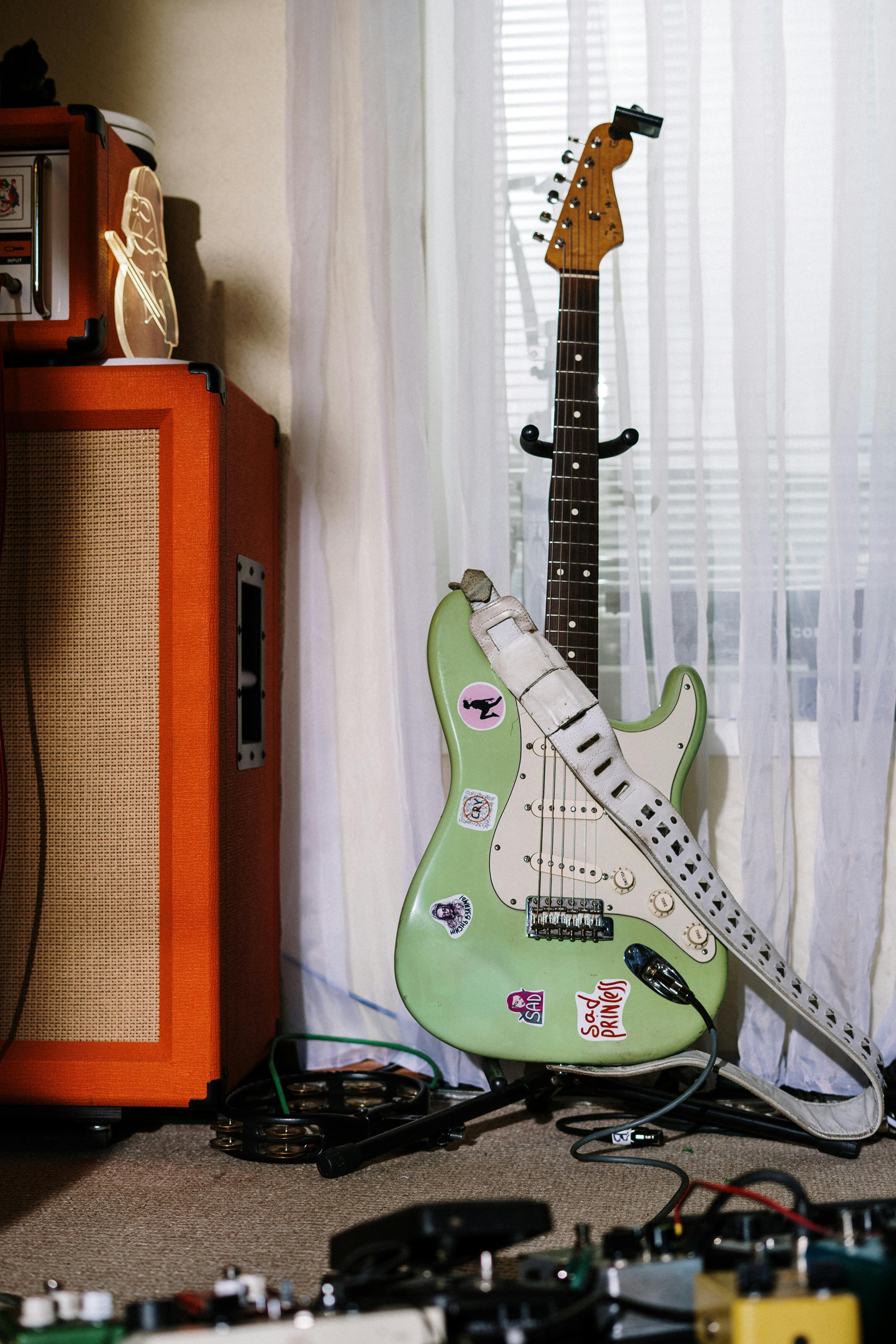 Surf Green Stratocaster – doesn't it sound absolutely amazing? I know it does! Choosing a new guitar is not an easy task. We've all been there. Especially when you're a beginner. You keep seeing all of these different guitar shapes and colors and it all makes you even more confused. In addition, everyone's saying something different. Well, at least you can trust me. If you haven't seen my other blog posts, my name's Dave and I'm here to help you with making the right guitar choice. Today we are going to briefly talk about the awesomeness of stratocasters. Especially in surf green!
It is true that the guitar market is really broad. There are a lot of amazing guitars out there. Nevertheless, if you're a les paul guy, you should probably move on to the next article. This time I'm going to tell you 10 reasons why you should buy a surf green stratocaster. Whether you're aiming for a Fender or Squier guitar, I'm absolutely positive that this guitar will be a perfect match for you. Let's rock n' roll!
1. Affordable Price
What's important, these guitars are not extremely expensive. In fact, you can find a really affordable and playable model at a really decent price. Check out this Squier Affinity Stratocaster in Surf Green. It features the alder top, body and back and a maple neck. I bought this guitar a few years ago and trust me, it is so fun to play! Whether you are a beginner or an intermediate guitarist, you will be satisfied. It's actually crazy how good the quality of that guitar is. I bought this guitar as a backup guitar for my live shows, but in the end I often choose it as my main guitar. Hence, I highly recommend it. If you're interested, check out this surf green Squier by Fender on Amazon.
2. Great Tone
Well, I bet that we can all agree with that statement. Stratocasters have been with us since ages. You've heard that classic stratocaster tone in so many recordings. This guitar tone melts hearts, brings peace to the world and sounds so fantastic. What I personally enjoy about the strats is the C-shaped neck. It is absolutely smooth and playable. Thus, I often spend way too much time with my stratocaster than I'm supposed to (my girlfriend agrees with that statement).
3. Approved By The Best
Think about Jimi Hendrix, Eric Clapton, John Frusciante, Jeff Beck and John Mayer – what do they all have in common? They all play (or played) the Stratocasters. I think that it says a lot about the Stratocaster quality. Of course, fifty years ago the guitar market was much smaller and there were less models available. Nevertheless, I think that without Stratocaster, the music industry would not be the same. It's a massive part of music history, whether you like it or not. Check out one of the latest songs by John Mayer – it's played on a Stratocaster too!
4. Amazing Tremolo
Most Stratocaster guitars feature a tremolo bridge. If you're considering buying a surf green Stratocaster, I highly recommend picking the model that has it. It will help you discover a lot of new sounds. What's more, I'm absolutely sure that you're going to love it! Especially if you are a big fan of indie rock and Kill Bill like me.
5. Single Coil Pickups
Surf green stratocasters, just like all other stratocasters, usually feature three single coil pickups. You can use these pickups for all kinds of genres. Nevertheless, stratocasters are most often used by blues, country and indie rock guitarists. The sound can be described as bright and a little bit punchy. It often has quite a lot of bite. I'm sure that you've heard Red Hot Chili Peppers. They always give an amazing example of a classic three single coil stratocaster sound!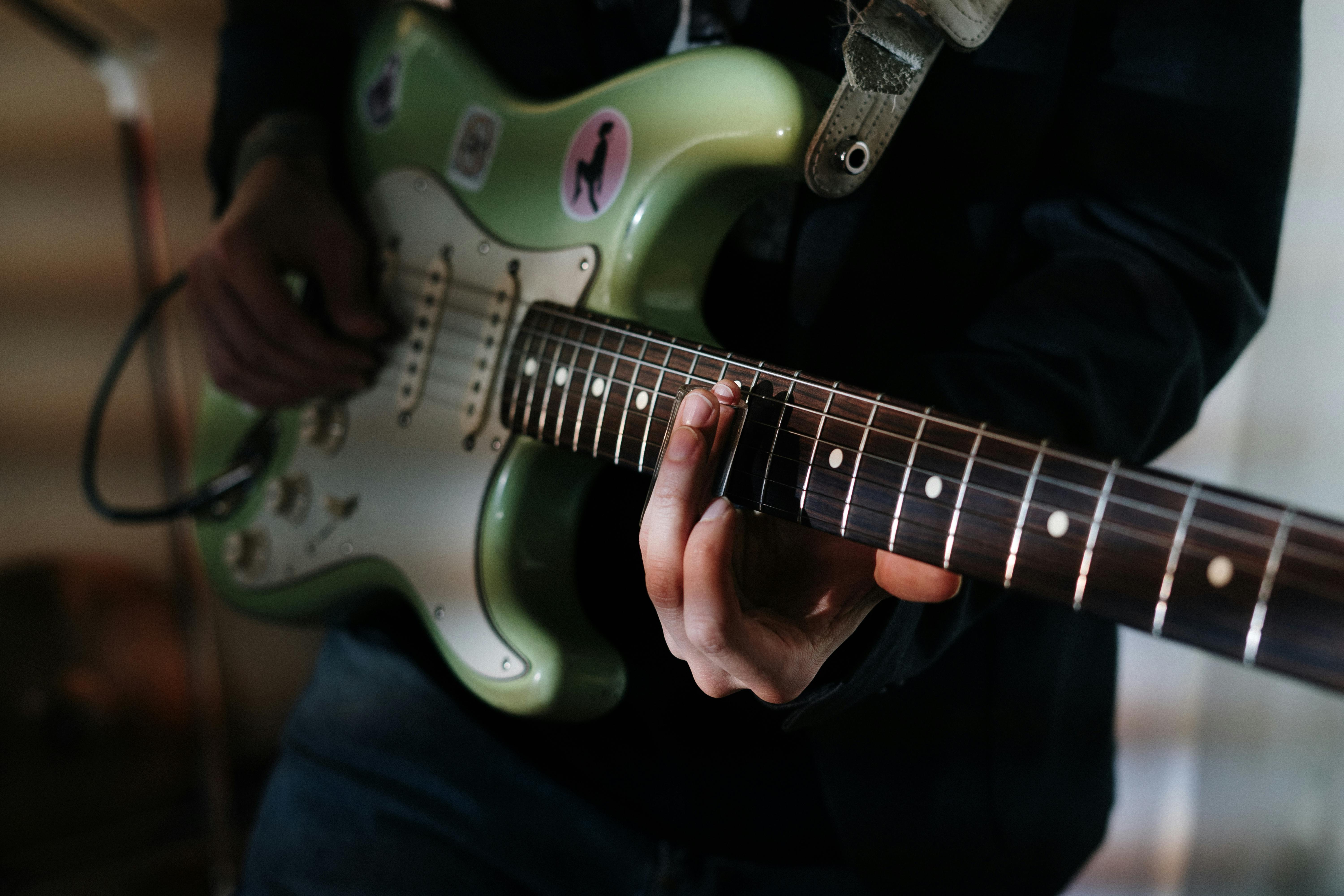 6. Squier Surf Green Stratocaster is Great For Beginners and Kids
Stratocasters are an affordable and a really good quality option for beginner guitarists and kids. In my opinion it is one of the best guitars that you could start with. Check out the ¾ sized guitar below. In addition, it comes with all the necessary equipment, such as cable, amp, guitar strap, tuner, picks and guitar lessons. Moreover, this smaller sized guitar will be also great for adult players with smaller hands. As you can see, stratocasters have no limits at all! Here's my top recommendation for beginners and kids:
7. Fender Surf Green Stratocaster is Great For Intermediate Guitarists
The more expensive option by Fender usually comes with an extraordinary maple neck. I'm a massive lover of maple necks on guitars, so looking at this guitar definitely speeds up my heart beat. Look at this maple neck below – doesn't it look cool? If you're interested, you can check the detailed specifications right here.
8. Durability
Stratocasters are astoundingly strong in the neck. It is difficult to break this guitar, that's for sure. I had my Fender Stratocaster for over 10 years now. I played dozens of gigs on it and trust me, it's still in great shape. Nevertheless, it also depends on how you treat your guitar. Although I'm absolutely sure that these guitars are extremely strong and durable instruments.
9. Availability
Surf Green Stratocasters are available in absolutely every country in the world. Whether you're in the US, Europe or Australia, you won't have a problem with finding a surf green stratocaster. In addition, the replaceable parts are also very easy to find. It's actually a really big advantage. Whether you like it or not, sometimes things break. If you somehow manage to damage your stratocaster, finding new parts will be a piece of cake!
10. That Surf Green Color
It is scientifically proven that green color brings peace. Now think about the surfers. They are always chilled, right? As a result, surf green stratocasters bring tranquility, chill and joy all at the same time. You don't even have to play that strat. I mean, look at it!
Who doesn't love a surf green stratocaster?
Well, if these few reasons did not encourage you to buy a surf green stratocaster, I can't help you. You are probably a les paul guy! Nevertheless, if you are still thinking about buying that strat, I highly recommend it. Whether you are going to pick a Squier or Fender guitar, I'm absolutely positive that you are going to love it. I've been playing stratocasters for over 10 years now and they just keep getting better. Moreover, I would not exchange my strat for absolutely anything in the world.
You may also like: