Squier by Fender Strat is a fantastic guitar. For those who don't know, Fender is an absolutely legendary guitar manufacturer. The company has a long history of building the most iconic, versatile and amazing sounding guitars. In fact, their guitars play a significant role in the history of modern music. We've all heard the classic, bright and resonant Stratocaster tone. Nevertheless, the best Fender guitars manufactured in Corona, California tend to be really expensive. 
Thankfully, Fender owns a smaller brand focused on affordable instruments. Squier was acquired by Fender in 1965 and since then it has played a key role on the guitar market. Their guitars may not be as professional as original Fenders, although they still offer a top-quality at cheap prices. Let's have a closer look at one of the most affordable instruments for both beginner and intermediate guitarists: Squier By Fender Strat.
There's quite a few available Strats manufactured by Squier. I think that these are the most affordable electric guitars in 2021. I prepared a detailed overview of each model below. This includes:
Squier By Fender Strat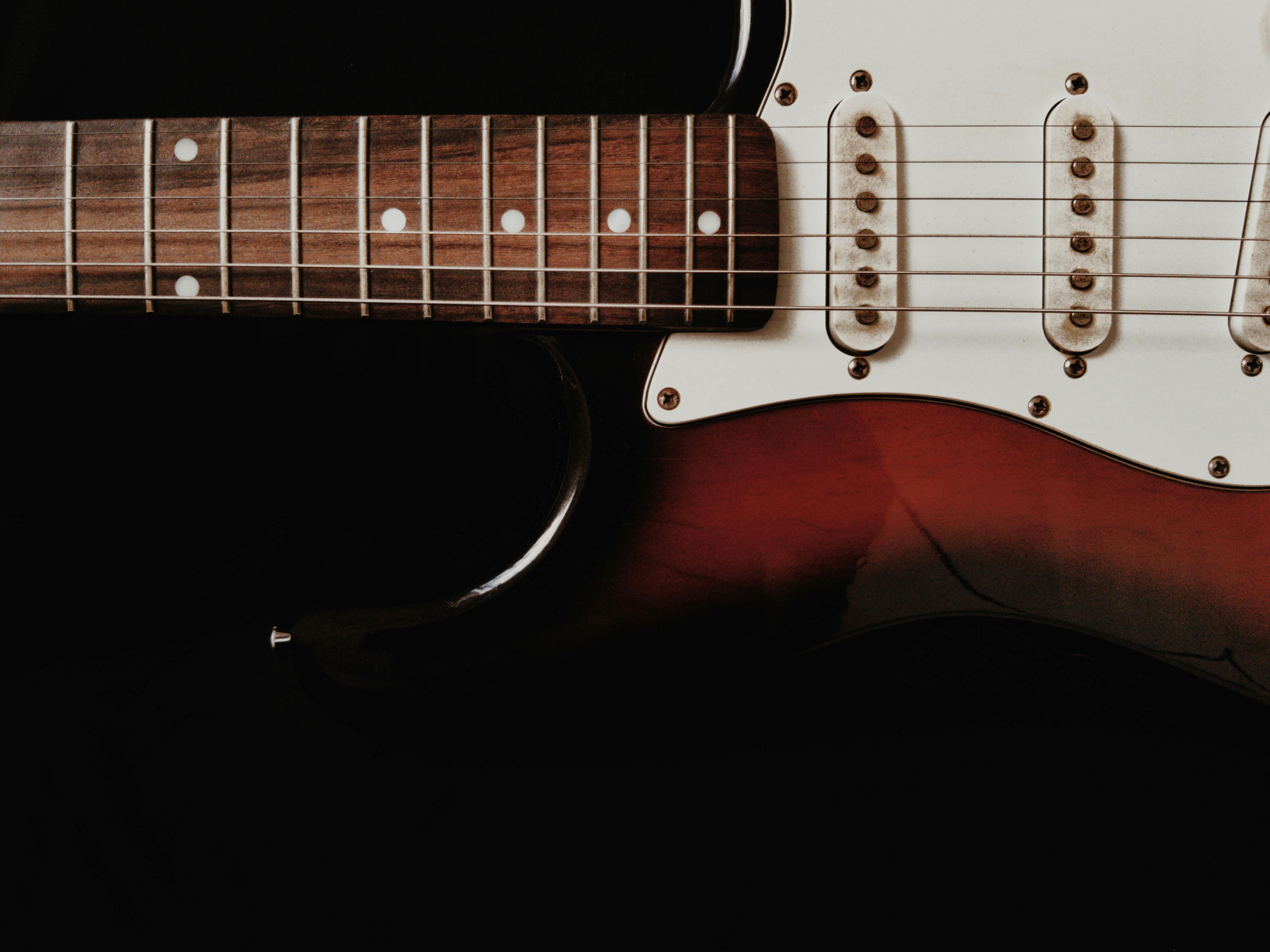 The shape of a stratocaster is an absolute classic. What's more, the majority of the most famous guitarists either played or are still playing the Stratocasters on their records. Think about John Frusciante, Eric Clapton and John Mayer. Or Jeff Beck. Even Gary Clark Jr. There are so many great musicians who used this model throughout the years. Strats reputation is extremely high and it's safe to say that today they are the music industry's standard.

In comparison with Fender Stratocasters, the Stratocasters created by Squier are significantly cheaper. Nevertheless, the Squier guitars still offer the classic sound with a modern touch. In many cases the difference is pretty much unrecognizable. What's more, I personally own a Squier Affinity Jazzmaster. Although it's not a strat, the quality of used materials is absolutely fantastic. 
Squier By Fender Strat Models
Mini Stratocaster ¾
This guitar will be the perfect guitar for kids and beginners. What's more, it will also be great for adult players with smaller hands. The guitar features a combination of poplar and maple wood. In addition, it's also available in many different colors. The C-shaped maple neck makes this instrument really playable and enjoyable. Besides, it features 3 single-coil pickups and a vintage-style hardtail Stratocaster bridge. In my opinion, at this price it's impossible to find a better starter guitar. I highly recommend it!
Bullet Series Stratocaster
The following guitar is really similar to the previous mini Strat. Nevertheless, it's a normal-sized guitar. Overall, it's another perfect option for beginner guitarists. Similarly as in the previous Stratocaster, three single-coil pickups result with a really unique and classic Strat sound. Certainly, it's an amazing instrument to start your musical journey with. On top of that, it's super affordable. I wish I had when I was younger!
Affinity Series Stratocaster
As I mentioned before, I own a guitar from this series. My instrument sounds absolutely fantastic. I did not expect that cool sound out of that cheap guitar. What I like about this guitar is the vintage-style tremolo. In addition, it's available in a really wide range of colors. It's even available in my favorite color – surf green. Big plus! If you're a fan of classic rock n' roll, this guitar will be ideal for you. 
Classic Vibe 50s Stratocaster
This Series is absolutely unique. Honestly, this guitar looks, sounds and feels like a top-level American Stratocaster. The guitar features a mix of pine and maple wood. The eye-catching maple fingerboard definitely draws attention to this instrument. Moreover, it features Alnico III single-coil pickups. Certainly, it's a really cool and vintage guitar. I highly recommend it to players who enjoy music from the past century.
Classic Vibe 60s Stratocaster
This guitar is really similar to the 50s Stratocaster, although it has a little bit thicker tone. That unique sound comes from Alnico V single-coil pickups. If you're looking for more attack with a lot more attack force, the 60s Stratocaster will be ideal for you. In addition, just like the previous model, this Strat is super enjoyable. Hence, I truly recommend this axe to any lover of vintage recordings.
Vintage Modified 70s Stratocaster
An absolutely stunning instrument with a lot of power. The guitar features a mix of poplar and maple wood and nickel-plated hardware. What I like about this Strat is the slightly bigger than usual headstock. As a result, this design refers to the 1970s era. It's a truly unique guitar available either with the three single-coil pickups or the HSS setup. In my opinion, the second option will be perfect for rhythm guitarists in bands. What's more, the vintage gloss finish adds a lot of character to this guitar. If you're into classic rock from the 70s, you should definitely consider getting this guitar for yourself too. Great guitar!
Standard Stratocaster FMT
Another really interesting Squier with a modern feel and traditional vibe. What I like about this model is the flame maple top. Doesn't it look cool? On top of that, the guitar features a similar large headstock, a vintage-style bridge and the C-shaped neck profile. Indeed, it's a really interesting and amazing sounding Stratocaster. What's important, it's one of the most affordable Squiers on the market right now! I highly recommend this instrument for both beginner and intermediate guitarists. No doubt!
Squier By Fender Strat – Thoughts
As you can see, there are a lot of really good Squier guitars on the market. Whether you're a beginner guitarist or an intermediate player, you will be satisfied with the overall quality and sound of these guitars. Personally, the Classic Vibe 50s Stratocasters draw the most of my attention. The 2-color sunburst model with a vintage-tint gloss neck finish has something really special in it. Nevertheless, all other models reviewed in this article are absolutely great too. If you're considering getting a new Stratocaster, I highly recommend the Squier guitars. Certainly, it's pretty much much a far more affordable Fender. You won't be disappointed. For sure! On the other hand, I also recommend this Squier J Mascis Jazzmaster. It's a truly amazing guitar too and it deserves a highlight as well.
_____
Dave, the creator of Best Guitars Now, is an intermediate guitarist with over 13 years of experience within the music industry. The main aim of this blog is to educate beginner guitarists, highlight the most affordable guitars and promote the best ways to learn guitar playing. Thanks for checking out this blog!