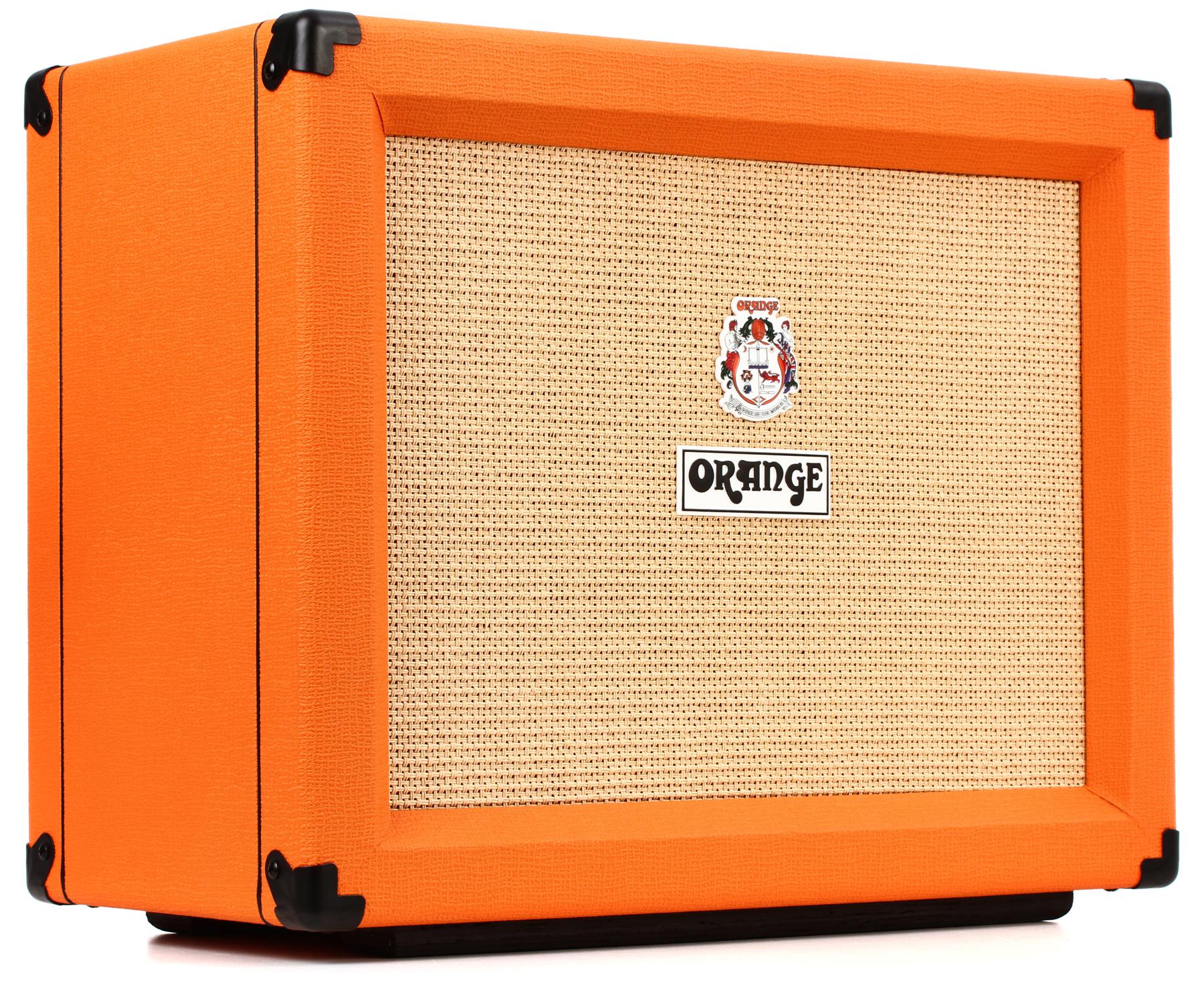 If you're wondering whether Orange PPC112 cabinet is good or not, don't worry – you've come to the right place! In today's in-depth review, I'm going to take a very close look on that affordable cab. It's very popular among the guitarists of all levels, but is it actually worth it?
Honestly, Orange PPC112 is one of the best 1×12″ cabs that you can potentially find on the market right now. It has everything you need – it sounds great, it's powerful, it's built like a tank and it's not too expensive. Who needs anything else?
Let's dive deeper with research to find out what exactly makes the PPC112 cab so good and so popular all around the world. Firstly, we'll have a look at the detailed specifications of that cabinet. Additionally, we'll have a look at its pros and cons. Hopefully, this guide will help you figure out if this cab is a good fit for you!
Overview – Specs & Pricing
Orange PPC112 is an affordable 1×12″ closed-back cabinet designed for the most demanding guitarists out there. It has pretty much everything that you potentially need from a cab of that size, so it's not surprising that it's really popular!
The cab features 60 Watts of power and it has a really durable heavy-duty construction. It is equipped with the Celestion Vintage 30 speaker which guarantees a fantastic tone. It's also fairly lightweight (32.5lbs).
Of course, just like the most of other cabinets and amplifiers made by this brand, it features the classic Orange aesthetic. It's really well made, so you can be sure that it will last you for years to come.
When it comes to pricing, it's not the cheapest 1×12″ cab available on the market, but it's not too expensive either. Surely, finding a better cabinet at the same price level as PPC112 will be extremely hard. It's definitely worth every cent!
Here's a quick demo.
Who Is It For?
Orange PPC112 is an ideal choice for owners of Orange amps and amp heads, but it works well with amps made by other brands as well. Surely, this cabinet is suitable for guitarists of all levels, so it doesn't really matter whether you're an advanced musician or not.
The PPC112 cab is suitable for a lot of different styles of music, so whether you're into blues, rock, indie or grunge, you won't be disappointed. It sounds particularly good with a lot of distortion!
What's important, Orange PPC112 is a particularly good choice for guitarists who often rehearse or play gigs with a band. This thing is perfect for liver performances!
It is also worth mentioning that the PPC112 cab isn't overly expensive, so it's a perfect choice for musicians who are looking for the best value for the money.
Overall, I'm positive that the vast majority of guitar players will really enjoy using that cab. It exceeds all the expectations!
Here's an another demo.
Pros & Cons
Just like any other cab available on the market, Orange PPC112 has its own advantages and disadvantages. That's totally normal! Still, it seems pretty clear that this cab has far more pros rather than cons, so there's not much to worry about.
Pros
Affordable Price
Killer Look
Build Like A Tank
Lightweight
Cons
That Tone Isn't For Everyone
As you can see, there are a lot of things that can be considered as major advantages of that cabinet. It sounds and looks fantastic and on top of that it isn't overly expensive. Isn't it all that really matters in the end?
The cons of that cab are really subjective. Some may say that it's overpriced, but in my opinion it's actually very affordable. On top of that, some guitarists say that the sound of that Celestion speaker is just too spiky. But to be honest, it's all up to you and your own preferences.
I'm positive that the advantages of that cab outweigh its disadvantages. Honestly, finding a better 1×12″ cabinet at this price level will be extremely difficult.
Any Alternatives?
If you're not satisfied with the overall quality of Orange PPC112 or you simply have a feeling that this kind of tone won't be the right fit for you, that's not a problem! There's still quite a lot of other fantastic 1×12″ cabs out there.
Of course, choosing a new cabinet will depend on your own personal preferences and most importantly, on the size of your budget.
Personally, I really enjoy using the Fender Hot Rod Deluxe 112 Cab. It offers a fantastic value for the money and just like the PPC112, it's not overly expensive. In comparison with the Orange cab, this particular model has 80-Watts of power, so it's a little bit more powerful.
Although the Fender tone is not for everyone, I highly encourage you to check it out below. There's a high chance that you're going to love it!
FAQ
Where is Orange PPC112 cabinet made?
The PPC112 cabinet is manufactured in China.
Is Orange PPC112 good for studio?
Yes, Orange PPC112 is a fantastic choice for any studio.
Where can I find out more about Orange amps and cabs?
If you want to find out more about this legendary manufacturer of amplifiers and cabinets, make sure to visit the official website of Orange.
Summary
As you can see, Orange PPC112 is a truly fantastic 1×12″ cab. There's just not too much to complain about it – it offers a fantastic value for the money. If you're looking for a reliable cab of that size, you should definitely consider adding it to your gear collection. There's a high chance that you're going to love it.
What do you think of that cab? Would you get it for yourself or do you think that it's overrated? Leave a comment down below and let me know what you think, I'm really interested to hear your thoughts!
Thanks for checking out today's review, hopefully it was helpful. If you enjoyed this article and you're looking for more gear recommendations, you may also like: