Little Martin Guitar is an extremely popular model within the beginner and intermediate guitarists. At the same time, Martin is an absolutely legendary guitar brand. From Willie Nelson and Elvis to Kurt Cobain and John Lennon, Martin guitars delivered a stunning sound on many old, classic and new records. Although the majority of their instruments are quite pricey, the Little Martin Guitar is still a really affordable and top-quality option. Long story short, this guitar is simply fantastic.
Moreover, although it's not super cheap, it's truly affordable. I had the pleasure to test this guitar on my own. It stayed with me for a few long weeks. Little Martin's playability and truly vintage, warm sound encouraged me to sit down and write this short review. As a result, I created a list of reasons why buying a Little Martin Guitar is a good choice. What's more, I attached some really cool information about Martin Guitars at the end of this review. By the way, thanks for checking out my blog. Let's rock n' roll!
1. Top Quality Materials
Little Martin guitar features a combination of spruce, sitka spruce and mahogany wood on top, body and back. The manufacturer used mahogany to create the guitar neck too. In addition, the scale length is 23 inches and it's available in a natural color. This instrument is truly remarkable. Whether you're playing at home or in front of hundreds of people, the durability of this guitar will be sufficient. Martin uses one of the best materials on the market. Hence, I highly recommend choosing that guitar!
2. Little Martin Guitar is really affordable
We all know that Martin guitars can be really expensive. We are talking about thousands of dollars! Nevertheless, in this case Martin offers an absolutely killer guitar at an extremely affordable price. Hence, it is a great product for beginners. I highly recommend checking out more pricing details here.
3. Amazing Tone
Although this Little Martin is pretty tiny, it sounds really loud and versatile. From my experience, the guitar sounds really warm. It will be great for fingerpicking. That acoustic tone can be used in a wide variety of genres. Whether you're into folk, blues, pop or indie, I'm absolutely sure that you will find a strunning guitar tone with this guitar.
4. Little Martin Guitar Is ideal For Beginners
The Little Martin is also absolutely great for beginner guitarists. What's more, it will also be great for kids and guitarists with smaller hands. Personally, I wish that I had this guitar when I was an inexperienced guitarist. Some things can be achieved so much easier and faster if your guitar is good. In fact, the Little Martin has everything you need to start your musical journey. It's a perfect starter instrument for both kids and adults. If you want to buy a guitar for your kid, choose the Little Martin.
5. Perfect Travel Guitar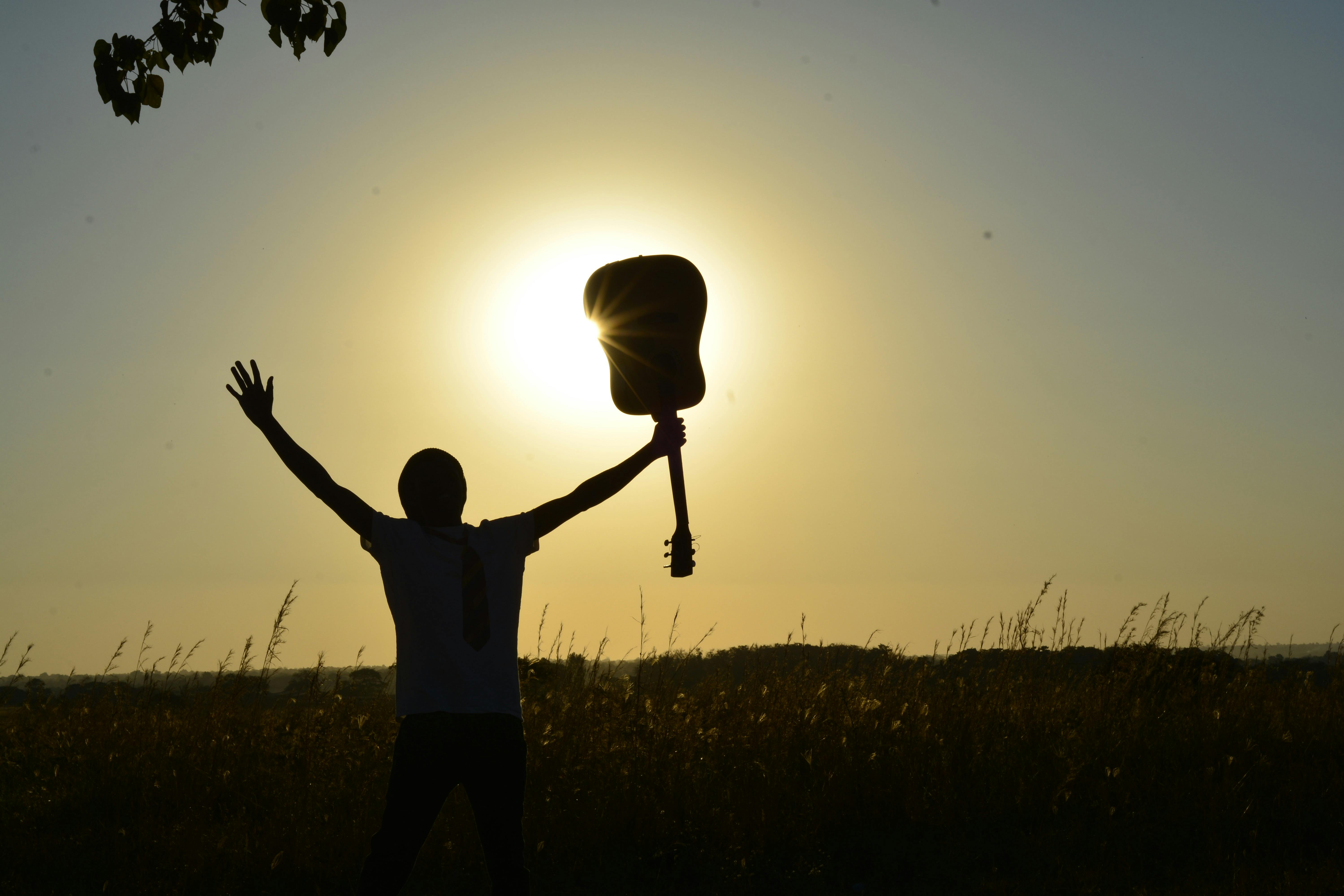 If you're on the go, Little Martin will be ideal for you. Due to its size, the guitar is really easy to travel with. Traveling with a normal sized guitar can be really challenging. Especially if you are flying to another continent! Nevertheless, this Martin will be absolutely great for anyone who's planning a long-distance trip. Grab this tiny guitar with you and go for an adventure!
6. Unique Appearance
Whether you like natural wood colors or not, this guitar looks absolutely stunning. The guitar looks similarly as it sounds. Hence, it's absolutely magnificent. What's more, the chrome-enclosed tuners can really draw attention. I've seen a lot of acoustic guitars in my life, but Little Martin has something unique in it. It's definitely eye-catching and even in a room full of similar guitars, it stands out.
7. Little Martin Guitar Is Great for Fingerstyle Guitarists
As a finger style guitarist, I was particularly impressed by the string action. Based on online comments, I was a little bit worried that it would be a little bit too hard for fingerstyle playing. Nevertheless, it's not the case. I'm absolutely sure that if you're into fingerstyle playing, this guitar will be a great fit for you. Combined with the classic, vintage and warm tone, you will be able to create an unlimited amount of beautiful acoustic melodies.
Thoughts 
If you've seen my previous guitar posts, you are probably aware that I'm a huge fan of Martin guitars. Their professionalism, rich history and top-quality instruments really impress me. If I were a thirteen year old boy again and I could start my musical journey, I would be extremely happy to have this guitar as a first instrument. Its tiny size, warm sound and overall outstanding quality make it one of the best and affordable guitars on the market. In addition, the mahogany and spruce materials make this guitar really durable. I have no hesitation in recommending this guitar for all beginner guitarists and players with smaller hands. What's more, if you're a traveler or busker, this guitar will also do the job. If you're interested in purchasing this instrument, check out more details on Amazon.
Martin Guitars
Little Martin Guitar is truly remarkable. Let's dive in deeper and find out why Martin Guitars are so good. The company was created by an American guitar manufacturer Christian Frederick Martin in 1833. It's been almost 200 years. Crazy, right? The guitars created by Martin Guitars are highly respected by the musician community. The company is also a leading manufacturer of flat top guitars. In the past, they also created mandolins and electric guitars. Nevertheless, nowadays their offer is limited to strictly acoustic guitars only.
Used By The Best
Martin guitars have been used by the best and legendary musicians in history. Think about John Lennon, Kurt Cobain, and Thom Yorke. Also Elvis Presley, Willie Nelson and Paul McCartney. Even John Mayer, David Crosby and Jason Isbell. They were all using Martin guitars in the past or they are still using them nowadays. This huge roster of talented musicians prove that Martin is a leader in the acoustic guitar game. What's interesting, a Martin-D28 guitar that was used by Elvis Presley in his last gig has been sold at a private auction for $106,200 in October 2009. Crazy!
You may also like:
______
Dave, the creator of Best Guitars Now, is an experienced musician with over 13 years of musical experience. The aim of this blog is to create a place for other musicians to discuss musical equipment, find the best affordable instruments and find out the best ways to learn guitar playing.