I recently bought the Harley Benton SC-400 so I figured that it would be a really good idea to share some of my thoughts with the Best Guitars Now community! It's a very popular model among the amateur players, but is it actually good?
Honestly, the SC-400 is a surprisingly good electric guitar. Obviously, it's not as good as Gibson Les Paul, but it still offers a really good tone and feel. It's a perfect guitar for any beginner who wants to start their musical journey!
Let's dive deeper with research to find out what exactly makes the SC-400 model so good and so popular all around the world. All pictures included in this article are mine.
Firstly, we'll start with a quick overview of the specs of that model. Additionally, we'll check out the most important pros and cons of that axe and we'll check out a few sound demos as well.
Specs & Pricing

Harley Benton SC-400 is an affordable electric guitar designed for all lovers of classic rock. This is basically a cheap copy of legendary Gibson Les Paul, one of the most iconic guitars of all time. And in fact, it's very popular!
What makes it so special? Well, the SC-400 features a solid basswood body, a comfortable C-shaped maple neck and an easy-playing roseacer (thermally treated maple) fretboard. There's also a Tune-o-matic bridge, the Kluson Style tuners and chrome hardware which looks fantastic.
The manufacturer decided to equip this model with a pair of classic open humbuckers which give you access to a lot of great tones. Both of these pickups sound really good, although if you're a bit more advanced player, you'll probably consider upgrading them with a better set.
It is also worth mentioning that this guitar looks fantastic from the outside too. It's a well made guitar which doesn't feel or look cheap at all. On top of that, it has a matte finish which is an another huge advantage of that axe.
When it comes to pricing, this is actually one of the cheapest Les Paul copies that you can currently find on the market. As you can imagine, it's worth every cent! Despite of the low price, it manages to deliver a fantastic tone and quality. And that's why I love it!
I recorded a quick sound demo of that guitar – feel free to check it out below.
Who Is It For?
Let's be honest – this model is suitable for guitarists of all levels. It doesn't matter whether you're a complete beginner or a bit more advanced guitar player – you will be pleasantly surprised by the high quality of that budget guitar.
However, most of the time the SC-400 model is used by amateurs. It's a perfect choice for everyone who's searching for their first electric guitar.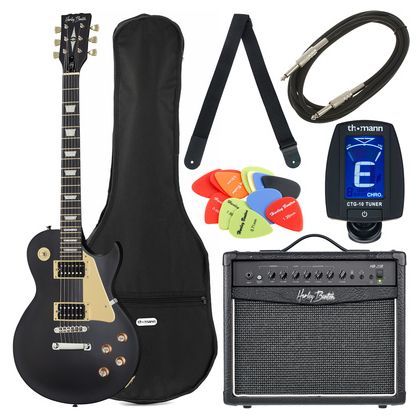 Just like the original Les Paul by Gibson, this Harley Benton guitar is a very versatile instrument too. Whether you're looking for glassy cleans or a bit more punchy, distorted tones – this axe can do it all.
The high versatility of that guitar is definitely a big advantage. It will be perfect for all enthusiasts of rock and genres, but it will also work great in other genres as well.
It is also worth mentioning that this is a really affordable model, so it's ideal for musicians who don't want to spend too much on new gear.
Overall, I'm positive that the vast majority of guitar players will really enjoy playing on that inexpensive axe. It has its own flaws, but considering how affordable it is, it exceeds all the expectations. Well done, Harley Benton!
Pros & Cons Of SC-400
Just like any other electric guitar available on the market, the SC-400 has its own set of advantages and disadvantages. That's totally normal! However, it seems pretty clear that this particular model has far more pros rather than cons.
Pros
Sounds Great
Looks Fantastic
Cheap Price
Matte Finish
Comfortable Neck
Cons
No Gig Bag Included
Tuners
Setup Isn't Great
As you can see, there are a lot of things that can be considered as major pros of the SC-400 axe. It looks, sounds and feels really good. Additionally, it has a very nice matte finish and it's really comfortable to play. On top of that, it's really cheap. How can you even argue with that?
On the other hand, the SC-400 usually comes without an included gig bag, so you'll have to get it separately. It's not a big deal though! The tuners aren't the best either and the factory setup could be better too.
There's a chance that you'll have to adjust the string action to make it more comfortable to play, but it's all up to you and your own preferences. This is totally normal – it happens in pretty much all cheap guitars.
Still, I'm positive that the advantages of that axe outweigh its disadvantages. Bear in mind that this is a budget guitar, it's not a high-end Gibson! But despite all of that, this axe offers a fantastic value for the money.
Any Alternatives?
If you don't like the sound of Harley Benton SC-400 and you have a feeling that it won't be a good fit for you, that's not a big deal! There's still quite a lot of other fantastic guitars out there.
Of course, it all depends on your own personal preferences and most importantly, on the size of your budget. Here's a few other electric guitars that you can also consider before you make a purchase.
Alternative Option #1 – Epiphone LP Special VE
Firstly, I highly encourage you to check out the Epiphone Les Paul Special VE. This is actually one of the most popular entry-level Les Paul guitars that you can find on the market right now. It's made by Epiphone, a brand which makes the cheaper versions of legendary Gibson guitars.
I had the pleasure to test this guitar on my own and I was really impressed by its quality. It has a very comfortable neck with the satin finish, which is a massive advantage. The pickups are pretty basic, but you can't expect them to be amazing at this price level.
Overall, it's a fantastic and great sounding guitar that will be perfect for all guitarists who aren't satisfied with the quality of Harley Benton SC-400. It's a bit more expensive, but it's definitely worth it!
Alternative Option #2 – Harley Benton JA-60
Harley Benton JA-60 is an another fantastic electric guitar available at a relatively low price. Just like the SC-400 model, it's perfect everyone who's searching for their first electric guitar.
This is an offset guitar, which means that it sounds and looks a bit different than the Les Paul copy from today's article. This budget Jazzmaster copy has different pickups and a bit different neck – it has a longer scale.
Still, considering how inexpensive it is, it's definitely worth every cent. And since the Jazzmasters are my favorite guitars, I highly encourage you to check it out!

Alternative Option #3 – Squier Bullet Mustang HH
Squier Bullet Mustang HH is an another really cool electric guitar that exceeds all the expectations. Although it looks way different than Harley Benton SC-400, it's actually quite similar.
Just like the SC-400, the Bullet Mustang has a pair of really good humbuckers. Additionally, it also has a short scale length, so it's perfect for guitar players with smaller hands or shorter fingers.
Although it's not the best electric guitar, it can work really well as an alternative option for those who don't want to get the Harley Benton reviewed in today's article. But when it comes to pricing, it's pretty much on the same level.
FAQ
Where are Harley Benton SC-400 guitars made?
The SC-400 guitar is manufactured in China.
Where can I learn more about Harley Benton?
If you want to find out more about Harley Benton guitars, make sure to visit their official website.
Summary
As you can see, the SC-400 is an absolutely fantastic Les Paul copy. Although it's not the best electric guitar in the world, it definitely deserves a lot of attention. In my opinion, this is one of the best cheap LP-style guitars that you can possibly find on the market right now.
What do you think of Harley Benton guitars? Do love them too or do you think that they aren't worth the hype? Leave a comment down below and let me know what you think, I'm really interested to hear your thoughts!
Thanks for checking out today's review, hopefully it was helpful and you found what you were looking for. If you're searching for more gear recommendations, you may also like: