If you're wondering if Harley Benton Mini Looper is a good pedal or not, look no further! In today's in-depth review, I'm going to take a very close look on that budget effect. Surely, it's quite cheap, but is it good?
The truth is that Harley Benton Mini Looper offers a pretty good quality for the money. It may not be the best pedal of this type in the world, but it gets the job done and it allows you to practice and experiment with new ideas.
Let's dive deeper with research to find out what exactly makes the HB Mini Looper so good and so popular among the guitarists all around the world! Firstly, we'll have a look at the specifications of that model. Of course, there will be a few sound demos included as well, so you'll be able to hear how it sounds.
Specs & Pricing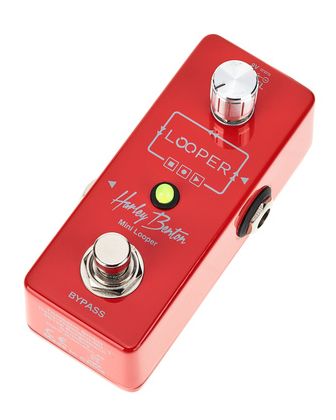 Harley Benton Mini Looper is a compact looper pedal that exceeds all the expectations. In fact, it's one of the most popular mini pedals that are currently manufactured by this really cool brand!
What makes it so cool? Well, it's extremely functional. This effect features up to 10 minutes of recording time along with unlimited dubbing. As you can imagine, that opens a lot of tonal opportunities! It's very easy to use, so even if you're a beginner and you don't know much about loopers, you'll quickly figure it out.
The pedal features a solid metal case and a very simple construction with one knob on the top of the pedal – it controls the volume. It's built very well, so there's a high chance that it will last you for years to come. Since a lot of other budget pedals are made of cheap plastic, the durability of the Mini Looper is a big advantage.
When it comes to pricing, it's really cheap. In comparison with similar pedals at this price level, the Mini Looper by Harley Benton really stands out. It's a perfect alternative for those who can't afford getting the TC Electronic Ditto Looper!
Here's the sound demo – feel free to check it out.
Who Is It For?
Harley Benton Mini Looper is suitable for guitarists of all levels. It doesn't really matter whether you're an intermediate musician or not – you will definitely enjoy and appreciate the high quality of that budget pedal.
This is a perfect looper pedal for anyone who's searching for their first looper pedal. It does what its supposed to do and that's why it's so useful!
And since this is a pretty cheap pedal, it's mainly designed for guitarists who don't want to spend too much on new gear. If you're looking for the best value for the money, choosing this looper by Harley Benton will be a good idea.
Additionally, bear in mind that this is a mini pedal, which means that it doesn't take too much space. If you're using a small pedalboard and you don't have much empty space for new pedals, this mini looper will do the job.
Overall, I'm positive that the vast majority of guitar players will really enjoy and appreciate the functionality of that effect. There's just not much to complain about!
Here's an another sound demo.
Are There Any Disadvantages?
It's tough to find any major disadvantages of Harley Benton Mini Looper – it's generally a fantastic and well-made mini pedal. However, there's a few things that you should be aware of before you decide to get it.
Firstly, you need the 9V power supply to operate it. It is not included with the pedal, so you'll have to get it separately. You can't use any batteries to use that pedal.
Additionally, the looped sound from the pedal sounds a bit differently than the original sound that comes from the sound without the looper. It's not a massive difference, but it's noticeable.
Still, the advantages of that pedal outweigh the disadvantages of that model. Honestly, it won't be easy to find a better cheap looper at this price level. That's for sure!
What About Other Loopers?
If you're not satisfied with the overall quality of Harley Benton Mini Looper and you have a feeling that you need to find something better, that's not a problem! There's still quite a lot of great loopers out there, however most of them are a bit more expensive.
I recently wrote an article about 7 Best Looper Pedals Under $100, so if you're looking for gear available at this price range, feel free to check out that list. There's a high chance that you'll find your next looper pedal in there!
Would I Buy It?
In my opinion, Harley Benton Mini Looper is a fantastic pedal, especially when you consider the fact that it's really cheap. It's not perfect, but I'd be really happy to keep it for myself – especially for home practice!
If you're an intermediate guitarist and you really care about the sound quality, it may be a good idea to find something better.
On the other hand, if you just want a highly functional looper that gets the jobs done and still sounds pretty good, this Mini Looper will be an ideal choice for you
FAQ
Where is Harley Benton Mini Looper manufactured?
Harley Benton uses factories in China and Indonesia, so that's where their pedals are manufactured.
Are looper pedals good for beginners?
Yes, looper pedals such as Harley Benton Mini Looper are perfect for beginners. They can help you with practicing your accuracy and timing skills.
Where can I find out more about Harley Benton?
If you want to find out more about Harley Benton, feel free to visit their official website.
Summary
As you can see, Harley Benton Mini Looper is a fantastic and highly effective looper pedal available at a low price. Although it has its own disadvantages, it's definitely worth every cent. I'm sure that if you decide to add it to your pedalboard, you won't be disappointed at all!
What do you think about this effect? Would you get it for yourself or do you think that it's overrated? Leave a comment down below and let me know what you think, I'm really interested to hear your thoughts!
Thanks for checking out today's review, hopefully it was helpful. If you enjoyed this article and you're searching for more gear recommendations, you may also like: