If you're thinking about getting the Harley Benton JA-60CC, you've come to the right place! In today's article, we're going to take a close look on that brand new model. Is it actually worth the money?
The answer is YES! Harley Benton JA-60CC is an absolutely amazing electric guitar. It's pretty much the same as the JA-60 model, but it's available in a few different color versions which look absolutely amazing.
Let's dive deeper with research to find out what exactly makes these guitars so good and popular all around the world. We'll have a look at the specifications of the JA-60CC model and we'll investigate its biggest pros and cons. Hopefully, this guide will help you find out if this offset guitar is a good fit for you!
Brand New Colors
Firstly, let's have a quick look at all of the brand new models that were recently announced by Harley Benton. They JA-60CC is available in five new color versions: Dakota Red, Lake Placid Blue, Seafoam Green, Shell Pink and Inca Silver.





Specifications
Harley Benton JA-60CC has a lightweight basswood body, a comfortable C-shaped caramelized Canadian maple neck and an easy-playing laurel fretboard with block inlays. Additionally, it is equipped with a pair of Roswell JM Alnico-5 vintage-style pickups.
Unfortunately, it doesn't have a tremolo bridge. However, the fixed bridge used in that model significantly improves the tuning stability, so perhaps it's actually a good thing that there's no tremolo in here.
Personally, I'm a huge fan of these Jazzmaster copies by Harley Benton. It's amazing that such affordable guitars can feature such a high quality. That's why I highly recommend checking them out!
Feel free to check out the official video released by Harley Benton.
Pros & Cons
Just like any other budget electric guitar, Harley Benton JA-60CC has its own advantages and disadvantages. That's totally normal! In the end, it's not a high-end Fender axe. However, it seems pretty clear that the JA-60CC model has far more pros rather than cons.
Pros
Fantastic Look
Cheap Price
Great Tone
Perfect For Both Beginners & Advanced Players
Cons
As you can see, there are a lot of things that can be considered as major advantages of that axe. It certainly looks, sounds and feels like a much more expensive guitar. On top of that, it's perfect for both amateur and advanced guitar players. Who needs anything else?
On the other hand, Harley Benton JA-60CC usually comes without an included gig bag. This is not a huge issue, but it would be really nice to have it included along with the guitar. The truth is that finding a good and reliable case for an offset guitar like the JA-60CC isn't as simple as you may think!
Nevertheless, the advantages of that model still outweigh its disadvantages. There's just not too much to complain about, especially when you think of how affordable these guitars actually are.
Who Is It For?
The JA-60CC model is an ideal choice for everyone who's searching for a great sounding and inexpensive offset guitar. This axe can easily compete with all the Squier Jazzmasters available at this price level.
Since it's a really affordable guitar, it can also work well for everyone who's looking for their first electric guitar.
If you're just starting out and you're searching for your first axe, the JA-60CC will be an excellent fit for you. At the same time, more advanced guitarists will also be satisfied while using this guitar during live performances or studio sessions.
Additionally, just like any other guitar of this type, the JA-60CC is a really versatile instrument. Jazzmasters are generally great for rock, alternative and indie music, but they can also be efficiently used for blues, country, grunge or metal.
Overall, I'm positive that the vast majority of guitar players will be pleasantly surprised by the undeniably high quality of that model. It has everything you need and it's actually really cheap. And that's what really matters in the end!
No Case Included? No Problem
As you're already aware, the JA-60CC model comes without an included gig bag. Since finding a good and reliable case for offset guitars isn't that easy, here's my recommendation.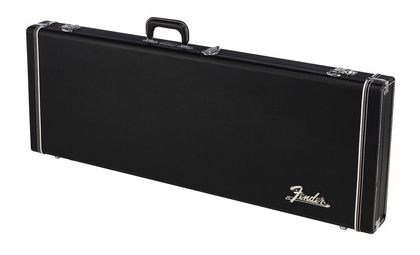 This is one of the best hardshell cases that you can potentially choose for your Jazzmaster guitar. It's not cheap, but it has everything you need, so it will definitely do a great job at protecting your JA-60CC from all the potential damage.
Who is it for? Well, it's designed for guitar players who really care about the safety of their guitars! No matter how experienced you are, getting this case for your Jazzmaster will always be a good idea.
FAQ
Where is the JA-60CC model manufactured?
The JA-60CC model is manufactured in China.
What is the scale length of that model?
The scale length of the JA-60CC has 25.5″.
Where can I find out more about Harley Benton guitars?
If you want to learn more about Harley Benton guitars, make sure to visit the official website of Harley Benton.
Summary
As you can see, Harley Benton JA-60CC is an absolutely amazing offset guitar which is totally worth the money. It may not be the best guitar in the world, but it's definitely a good choice for both amateur and more intermediate players.
What do you think of that model? Would you get it for yourself or do you think that it's overrated? Leave a comment down below and let me know what you think, I'm really interested to hear your thoughts!
Thanks for checking out today's review, hopefully it was helpful and you found what you were looking for. If you enjoyed this article and you're searching for more gear recommendations, you may also like: