If you're thinking about getting the Harley Benton G212 Vintage guitar cabinet, don't worry – you've come to the right place! In today's in-depth review, I'm going to take a very close look on that model. It's really popular, but is it actually good?
The truth is that Harley Benton G212 Vintage offers an absolutely amazing quality. It's really well made and it guarantees a great tone. Surely, finding something better at this price level won't be that easy.
Let's dive deeper with research to find out what exactly makes this cabinet so good and so popular all around the world. Additionally, we'll also have a look at the Vintage Vertical cabinet too. Hopefully, this short guide will help you make the right choice!
Overview – G212 Vintage
Harley Benton G212 Vintage is one of the most popular guitar cabinets that are currently made by this famous brand. It exceeds all the expectations and it gives you access to a really good and powerful sound.
The cabinet is made of black tolex. It also has a grille with decorative strips. Additionally, the housing is made of 16mm poplar wood. It's a pretty heavy cabinet though – it weighs quite a lot.
Still, I'm positive that this is one of the best guitar cabinets that you can potentially get at this price level. There's just not much to complain about! Similar cabinets made by other brands are significantly more expensive.
Specifications
| | |
| --- | --- |
| Speakers | 2x 12″ Celestion Vintage 30 speakers |
| Power rating | 120 W at 8 Ohm or 2 x 60 W at 16 Ohm |
| Inputs | 2x 6.3 mm jack |
| Dimensions | 520 x 742 x 300 mm |
| Weight | 25KG |
Review & Sound Demo
If you want to hear the sound of Harley Benton G212 Vintage, I highly encourage you to check out the sound samples on Thomann. There's quite a lot of them out there!
Alternatively, you can also watch the video review of the G212 Vintage – feel free to check it out below.
Pros & Cons
Just like any other guitar cabinet available at this price level, the G212 Vintage has its own advantages and disadvantages. That's totally normal! However, it seems pretty clear that this cabinet has far more pros rather than cons.
Pros
Affordable Price
Perfect For Home Use
Great For Band Rehearsals
Perfect For Metal
Cons
As you can see, there are a lot of things that can be considered as major advantages of that cabinet. It's affordable, it sounds great and it's really well made. Who needs anything else? Although it's one of the cheapest guitar cabinets of this size, it doesn't feel cheap at all.
On the other hand, this is a pretty heavy piece of gear, so if you're planning on using it during gigs, just make sure to have someone to help you with carrying it around.
But apart from that, there's just not much to complain about. You just have to be aware that this is not a premium cabinet, so it looks pretty basic. But overall, it's really well made and it does exactly what it's supposed to do. I think that's all that really matters in the end!
Harley Benton G212 Vintage Vertical – Overview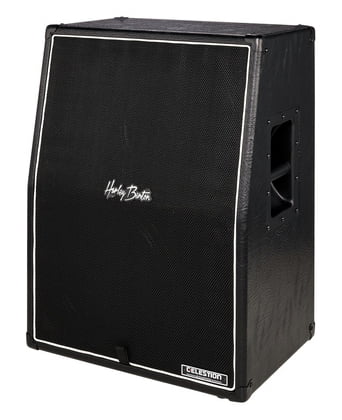 Harley Benton G212 Vintage Vertical is an another excellent guitar cabinet available at a relatively low price. Just like the previous model, it exceeds all the expectations and it's definitely worth the money.
It is equipped with two 12″ Celestion Vintage 30 speakers, it offers 120 Watts of power and it features the housing made of 16 mm poplar plywood. Similarly as the previous cabinet, it's a pretty heavy piece of gear – it weighs 24kg.
The G212 Vintage Vertical has pretty much the same pros and cons as the G212 Vintage. It's really well made, it's not that expensive and it sounds just right. Honestly, it's really difficult to complain about it when you know how cheap it is in comparison with cabinets made by more reputable brands.
Here's the official sound demo by Harley Benton – feel free to check it out.
Who Are These Cabinets For?
In my opinion Harley Benton G212 Vintage cabinets are suitable for guitarists of all levels. It doesn't really matter whether you want to practice at home, rehearse with your band or play gigs. These cabinets will be an excellent fit for you!
Additionally, these cabinets are perfect for people who don't want to spend too much money on new gear. Both of these models are budget-friendly, so they're perfect for guitar players with a tight budget.
When it comes to styles of music, the G212 Vintage cabs are perfect for rock and metal – there's no doubt with that.
Overall, Harley Benton managed to create a couple of great sounding and inexpensive cabinets that exceed all the expectations. I'm not surprised that they're so popular among the musicians all around the world!
Looking for more gear by Harley Benton?
If you want to learn more about Harley Benton, make sure to check out more of their gear on Thomann. They manufacture a lot of really cool guitars and guitar amps as well!
Summary
As you can see, Harley Benton G212 Vintage is a really good and affordable guitar cabinet. I have no hesitation in recommending this piece of gear to all guitarists who are looking for a good and reliable cabinet of this size.
What do you think of the G212 Vintage? Would you get it for yourself or do you think that it's overrated? Leave a comment down below and let me know what you think, I'm really interested to hear your thoughts!
Thanks for checking out today's review, hopefully it was helpful. If you enjoyed this article, you may also like: