If you're wondering whether Harley Benton G112 Vintage is a good cabinet or not, don't worry – you've come to the right place! In today's in-depth review, I'm going to take a very close look on that popular cab. It's a really popular model, but is it actually good?
The truth is that Harley Benton G112 Vintage is one of the best cheap 1×12 cabs that you can currently find on the market. It has everything you need – it's inexpensive, it sounds great and it's really well made.
Let's dive deeper with research to find out what exactly makes the G112 Vintage cab so good and so popular among the guitarists all around the world. Firstly, we'll start with a quick overview of the specs of that model. Additionally, we'll have a loot at the biggest pros and cons of that cabinet. Of course, there will be a quick sound demo included as well!
Specs & Pricing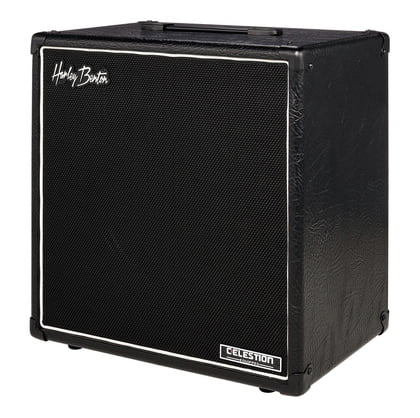 Harley Benton G112 Vintage is an affordable cabinet designed for the most demanding guitarists out there. Considering how well made it is, it's not surprising that it's one of the most popular cabs on Thomann!
What makes it so cool? Well, the G112 Vintage features 60 Watts of power and a 12″ Celestion Vintage 30 speaker. It also has a 18 mm poplar plywood housing, which is really durable as well.
The cab weighs around 14kg, so it's not that heavy. On top of that, there's also a comfortable grip handle that allows you to efficiently carry it around. This is a big advantage, especially for those who want to use that cabinet for live performances.
Overall, the G112 Vintage exceeds all the expectations. It's really affordable and it offers a fantastic quality – who needs anything else? Surely, it's one of the best 1×12 cabs that you can currently find on the market.
Here's a quick sound demo.
Who Is It For?
Harley Benton G112 Vintage cab can be used by both amateur and intermediate guitar players. It doesn't really matter whether you're an experienced player or not – you will definitely notice the high quality of that cheap model.
This cabinet is really versatile, so it can be used on several occasions such as home practice, band rehearsals, live performances and studio sessions. Honestly, it sounds like a much more expensive cab!
What's important, it's also suitable for a lot of different styles of music. Whether you're into blues, country, rock, indie or metal, you can be sure that the G112 Vintage won't let you down.
Undoubtedly, this cabinet will be ideal for everyone who doesn't want to spend thousands of dollars on new gear. Since it's one of the cheapest cabs of that size that you can find on the market, finding something better at this price level will be extremely hard.
Pros & Cons
Pros
Great Sound
Cheap Price
High Versatility
Lightweight
Well Built
Cons
There's Nothing To Complain About!
As you can see, Harley Benton G112 Vintage has a lot of great cons. It sounds good, it looks good and it's really durable. Isn't it all that really matters in the end?
When it comes to the disadvantages, there's just nothing to complain about. Considering how versatile and affordable this cab is, it seems to be a perfect choice for both beginner and more advanced guitar players.
Harley Benton G112 Vintage vs G112
For those who aren't aware, Harley Benton manufactures an another popular cabinet which is even more affordable – the G112.
A lot of guitarists wonder whether they should choose the G112 or Vintage G112, so the question is: which one of them is actually better?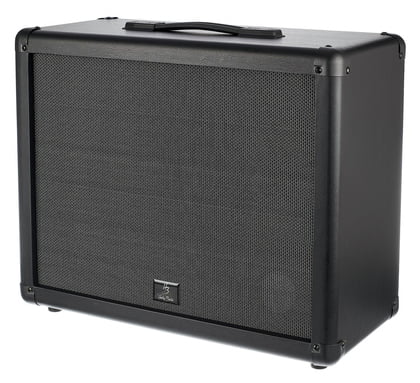 The truth is that the G112 Vintage is a much better cab, but at the same time, the G112 is more budget-friendly. If you have the budget for it, you should definitely stick to the G112 Vintage!
In my opinion, the G112 Vintage cab has a way better sound – it's brighter and much clearer. At the same time, the G112 has a bit darker tone, so it may be a good choice only for specific styles of music.
Here's a really good video that highlights both of these amps and the differences between them – feel free to check it out below.
Any Alternatives?
If you're not satisfied with the overall quality of Harley Benton G112 Vintage and you're looking for something different, that's not a problem! There's still quite a few other fantastic cabs that also deserve a lot of attention.
Of course, choosing a brand new cabinet will depend on your own personal preferences and on the size of your budget. Still, here's a few more option that you may also like.
Firstly, I highly encourage you to check out the Orange PPC112. This is one of the most popular 1×12 cabs manufactured by this brand and to be honest, it offers an amazing value for the money. It's a little bit more expensive than Harley Benton G112 Vintage but it's definitely worth it.
Alternatively, you can also check out the Fender Hot Rod Deluxe 112 cab. It works particularly good with Fender amp heads and combos, but it's still a great choice for amps made by other manufacturers as well.
But again, it's a little bit more expensive than the G112 Vintage, so it's all up to you whether you want to pay more or not.
FAQ
Where is Harley Benton G112 Vintage cab made?
Harley Benton G112 Vintage cab is manufactured in China.
What are the dimensions of the G112 Vintage cabinet?
The G112 Vintage cab has 460 x 470 x 299 mm.
Where can I find out more about Harley Benton?
If you want to learn more about Harley Benton, make sure to visit their official website.
Summary
As you can see, Harley Benton G112 Vintage is a fantastic cabinet. In my opinion, it exceeds all the expectations. That's why I have no hesitation in recommending this model to all guitar players who are looking for an efficient and great sounding cab of that size!
What do you think of that model? Would you get it for yourself or do you think that it's overrated? Leave a comment down below and let me know what you think, I'm really interested to hear your thoughts!
Thanks for checking out today's review, hopefully it was helpful and you found what you were looking for. If you enjoyed this article, you may also like: