If you're looking for easy songs to play on your guitar, you're in the right place. As an intermediate guitarist with years of musical experience, I know how difficult it is to start your musical journey. You bought your guitar, you learned a couple of chords… and now what? I remember that back in 2008 I was in the same situation. I literally didn't know what to play. Hence, I created a database of songs for beginners. It's the same database that I wish I had when I was a beginner. Feel free to check out all of the songs below. Try it, but don't get discouraged. The beginning is always tough!
Firstly, we're going to focus on simple songs that you can play with a basic knowledge of chords. In the second part of the article you will be able to find songs for beginners with the use of guitar tabs. You can simply click on 'chords' or 'tabs' on the right to see more details about each one of them. Ready? Let's rock n' roll!
Easy Guitar Songs For Absolute Beginners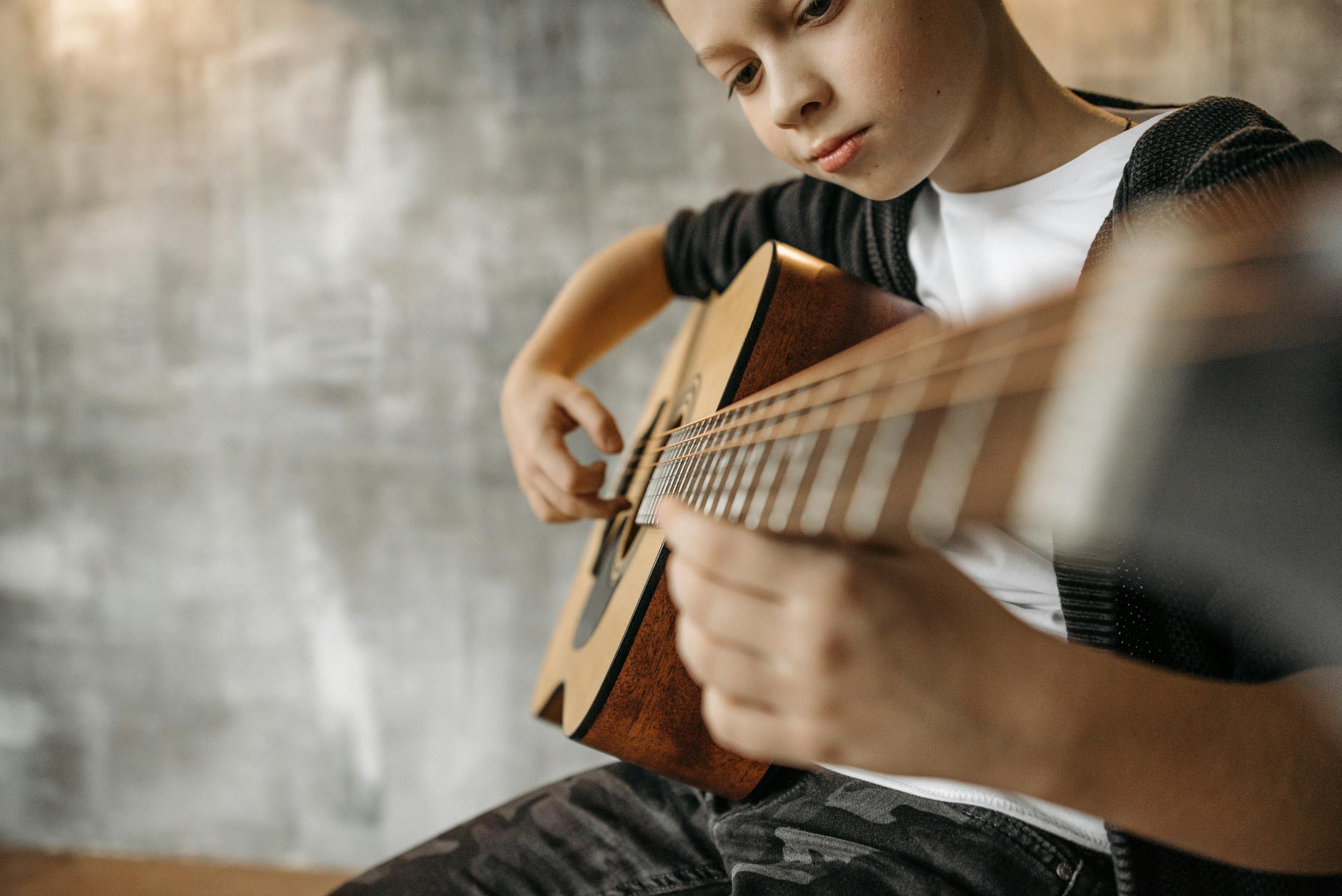 To play each of these songs, you will need an absolute basic knowledge of chords. If you know how to play such chords as Em, Am, D, C or G, you can definitely sit down with your guitar and start practicing playing these simple songs. Most of the time, it's just four chords over and over. Let's rock n' roll!
| | |
| --- | --- |
| Nirvana – Smeels Like Teen Spirit | Chords |
| 4 Non Blondes – What's Up | Chords |
| Dolly Parton – Jolene | Chords |
| Bill Withers – Ain't No Sunshine | Chords |
| Ben E. King – Stand By Me | Chords |
| The Neighbourhood – Sweater Weather | Chords |
| Ed Sheeran – A Team | Chords |
| The Weekend – Blinding Lights | Chords |
| Gary Jules – Mad World | Chords |
| Taylor Swift – August | Chords |
10 Easy Guitar Songs (Chords)
More Guitar Easy Songs For Beginners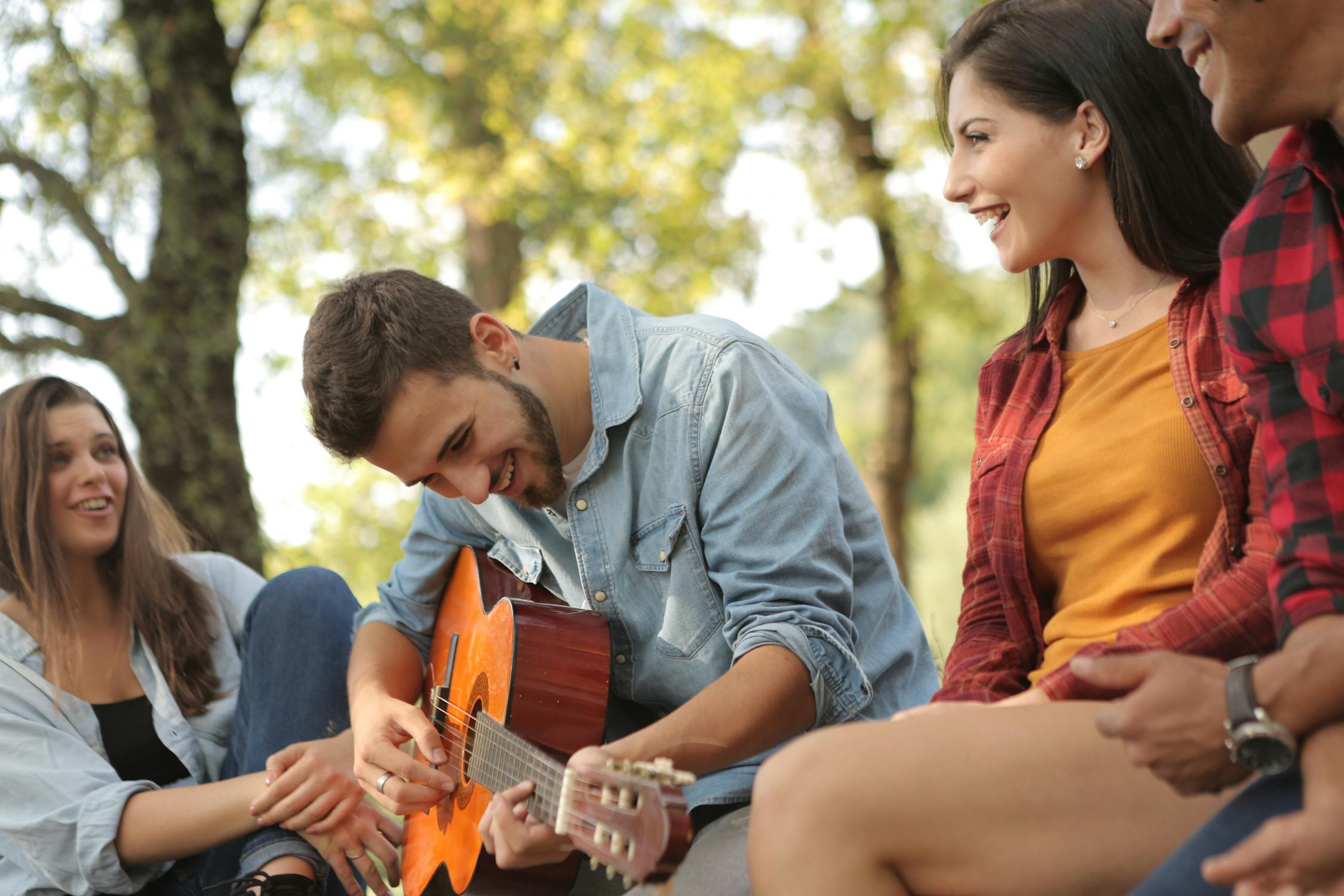 These songs are still really simple to play. Nevertheless, you may require knowing such chords as F or Bm. On top of that, songs like Hallelujah or Hurt require a little bit of fingerpicking. If you feel comfortable enough to try, you should definitely try to practice these songs.
Another 10 Easy Guitar Songs
33 Easy Guitar Tabs for Beginners
| | |
| --- | --- |
| Arctic Monkeys – Do I Wanna Know | Tabs |
| Pink Floyd – Wish You Were Here | Tabs |
| Lil Peep – Star Shopping (Intro) | Tabs |
| Wilbur Soot – Since I Saw Vienna | Tabs |
| Leonz – Among Us (Intro) | Tabs |
| The White Stripes – We're Going To Be Friends | Tabs |
| Bella Ciao (Intro) | Tabs |
| Mac DeMarco – My Kind Of Woman | Tabs |
| Green Day – Good Riddance Time Of Your Life | Tabs |
| Foster The People – Pumped Up Kicks | Tabs |
| System Of A Down – Lonely Day | Tabs |
| Deftones – Sextape | Tabs |
| Johnny Cash – You Are My Sunshine | Tabs |
| Blink 182 – I Miss You | Tabs |
| Arctic Monkeys – Mardy Bum | Tabs |
| Blink 182 – Dammit | Tabs |
| Arctic Monkeys – Arabella | Tabs |
| All Star – Smash Mouth | Tabs |
| Michael Jackson – Billie Jean | Tabs |
| Radiohead – If You Say The Word | Tabs |
| Vampire Weekend – A-Punk | Tabs |
| Eddie Vedder – Guaranteed | Tabs |
| Linkin Park – Given Up | Tabs |
| Pink Floyd – Money | Tabs |
| Childish Gambino – California | Tabs |
| John Mayer – Free Fallin' | Tabs |
| Jason Mraz – I'm Yours | Tabs |
| U2 – With Or Without You | Tabs |
| The National – The Rains Of Castamere | Tabs |
| Linkin Park – What I've Done | Tabs |
| Billie Eilish – Ocean Eyes | Tabs |
| Mac DeMarco – Chamber of Reflection | Tabs |
| Nirvana – Come As You Are | Tabs |
Easy Guitar Tabs For Beginners
More Guitar Tabs
Lastly, it's time for something for more advanced players. You may need a little bit more skills to be able to play these songs with no problem. Even if you think that it's too difficult, try it. In a few months you will come back to these songs and you will see that it's all a piece of cake. Ready? Let's rock!
| | |
| --- | --- |
| Metallica – Nothing Else Matters | Tabs |
| The Beatles – Here Comes The Sun | Tabs |
| Lynyrd Skynyrd – Sweet Home Alabama | Tabs |
| AC/DC – Back In Black | Tabs |
| John Mayer – Slow Dancing In A Burning Room | Tabs |
| AC/DC – Highway To Hell | Tabs |
| The Killers – Mr Brightside | Tabs |
| Extreme – More Than Words | Tabs |
| Maneskin – Zitti E Buoni | Tabs |
| Childish Gambino – Redbone | Tabs |
| The Rolling Stones – Angie | Tabs |
| Alice In Chains – Nutshell | Tabs |
| Franz Ferdinand – Take Me Out | Tabs |
More Guitar Tabs
Best Way To Learn Easy Guitar Songs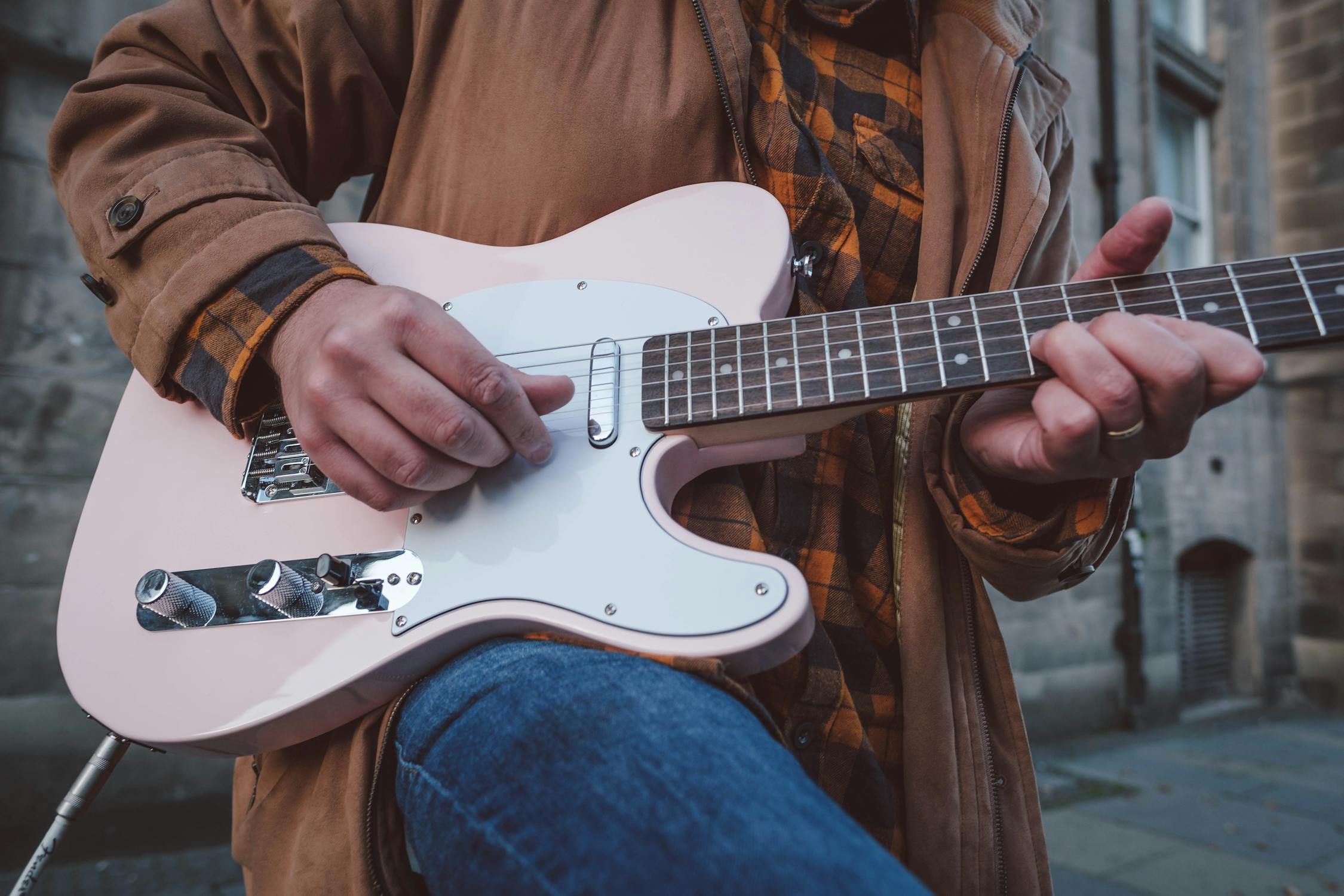 As you can see, there are a lot of great and easy songs for beginner guitarists. This list should definitely give you a lot of learning material. If you're still struggling at the beginning of your musical journey, check out my recommendations on the best ways to learn playing these songs.
1. Keep Your Head Up.
Becoming a guitarist is a marathon, not a spring. Remember that whenever you feel that you're not good enough. In fact, we should never stop learning. Trust me, even the best guitarists in the world have to practice from time to time.
2. Start With The Basics
Firstly, you need to know how the guitar works and why. Learning guitar playing also means learning a little bit of theory. Focus on absolute basics, like how to hold a guitar pick or how to tune a guitar. In addition, if you're struggling with remembering the string names, you can always come back to my guide for beginners. Most of beginners use acronyms to remember the EADGBE string order. Feel free to check out that article to find out which acronyms are the best. Also, if you're an absolute beginner, check out the video below.
3. Choose The Best Guitar For You.
I'm aware that choosing the guitar can be really difficult, especially if you're an amateur player. That's why I created this article full of gear recommendations. All guitars mentioned in there will be perfect for a beginner guitarist. What's more, the list includes both electric and acoustic guitars.
4. Be Comfortable.
This point is absolutely crucial for learning effectively. You need to feel comfortable to be able to sit down with an instrument for an hour or two and learn new melodies and chords. I highly recommend keeping your guitar in plain sight. Find a good spot at home and always put your guitar in there. If you will keep on seeing it everyday, that will encourage you to pick it up. On top of that, consider purchasing a comfortable practice stool or chair. And most importantly, avoid distractions. Playing in a private and quiet room will definitely boost up the speed of learning.
5. Learn Songs.
Undoubtedly, it's pretty obvious that you need to learn songs. Although on top of that, you should focus on learning songs in full. Don't just learn the first verse and then move to another song. Try learning songs one by one, without rushing this process. That will definitely be beneficial for your progress. Also, there is nothing worse when you're playing in front of somebody and you have to stop or improvise because you don't know the rest of the song. Hence, focus on learning songs in full!
6. Collaborate.
Playing with other musicians can definitely boost up your skills. Even if you're not an intermediate player, you can always start a band. Why not? Find a few musicians on the same musical level as you and rock on. What's more, playing live with others significantly affects your ability to play by ear. It will also push you to become better and better.
7. Don't stop practicing.
Whether you like it or not, you just can't become an advanced guitar player in a few weeks or months. It all needs time, patience and A LOT of practice. Don't forget about the warm up. In addition, I really recommend recording yourself at the beginning. Once you see what kind of progress you've made within the matter of days, you will be actually amazed. It will also definitely be a really good motivation to learn new songs and keep on practicing. Remember, don't give up and be patient. Actually, see this really great quote by Jimi Hendrix below. It sums it up really well!
https://pl.pinterest.com/pin/422705114997459118/
8. Use The Best Resources.
Finally, you really need to use the best available resources to efficiently learn how to play the guitar. Choose the best available YouTube channels and music blogs like Best Guitars Now :)! You can always find a guitar tutor, although it is not necessary. Personally, I learned how to play the guitar totally on my own. I never had any lessons! In fact, a lot of guitarists choose that way. If you feel comfortable with doing everything on your own, I'm telling you – you can do it.
In terms of resources, I highly recommend purchasing a few books for guitarists. Although we live in a digital world, having the chords and tabs written on paper is really useful. Here's a book that I can fully recommend. It's called Guitar Excersises For Beginners: 10X Your Guitar Skills in 10 Minutes A Day. Feel free to check it out on Amazon.
I hope that this article will speed up your growth as a musician. Feel free to share it with others. Good luck!
You may also like: