If you're wondering if Gibson J45 Standard is a good acoustic-electric guitar or not, don't worries – you've come to the right place! In today's review, I'm going to take an in-depth look on that high-end model. It's really popular all around the world, but is it actually worth the money?
The truth is that Gibson J45 Standard is a fantastic guitar. It sounds, looks and feels absolutely amazing. The price of that model can be a bit discouraging, but overall, it's definitely worth it!
Let's dive deeper with research to find out what exactly makes this Gibson guitar so good and so popular. Firstly, we'll have a look at the specifications and pricing of that model. Additionally, we'll investigate the main pros and cons of that guitar. Of course, there will be a couple of sound demos included as well!
Specs & Pricing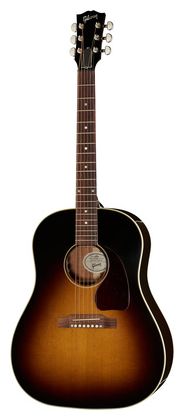 Gibson J45 Standard is a high quality acoustic guitar which guarantees an enjoyable playing experience. This is actually one of the most popular acoustic models manufactured by this brand!
What makes it so special? Well, the guitar features a solid Sitka spruce top, solid mahogany back and sides, and a mahogany SlimTaper neck with easy-playing rosewood fingerboard. The quality of these woods is on a very high level, so the J45 has a very strong and clear projection.
What's important, Gibson decided to equip this model with the LR Baggs VTC pickup system which allows you to efficiently use that guitar on stage. This is a huge advantage, especially for all the singer-songwriters and other gigging musicians. The J45 sounds very natural and balanced when it's plugged into an amp.
It is also worth mentioning that Gibson J45 Standard looks amazing from the outside too. There are no factory flaws and the finish is absolutely beautiful, so it's a great instrument to look at. Surely, it will draw a lot of attention the next time you'll take it with you on tour!
When it comes to pricing, just like any other guitar with the Gibson logo on the headstock – it's not cheap. However, I wouldn't say that this guitar is overpriced. The guitar from the highest shelf is always expensive, so I still believe that this guitar is definitely worth it.
Here's the sound demo – feel free to check it out below.
Who Is It For?
Gibson J45 Standard is suitable for guitar players of all levels. It doesn't really matter if you're an advanced musician or not – you will definitely appreciate the uniqueness and high quality of that model.
However, since it's a pretty expensive guitar, it's mainly used by intermediate and professional guitarists. This is a perfect guitar for any performing artist. Whether you're a singer-songwriter or you play in band, choosing this model will be a great choice for you.
Additionally, the J45 Standard is also perfect for any music producer who's looking for the best acoustic tone for their recordings. This is the gear from the highest shelf, so you can be sure that it will stand out in you mix.
It is also worth mentioning that this is a really versatile guitar, so it's suitable for a wide range of different music styles. Whether you're into blues, rock, country or folk – the J45 Standard won't disappoint you.
Overall, the vast majority of guitarists will appreciate and enjoy this remarkable guitar. There's just nothing to complain about! It sounds, feels and looks spectacular – isn't it all that matters in the end?
Here's an another sound demo.
Pros & Cons Of Gibson J45 Standard
As you can imagine, the J45 Standard has a lot of great advantages. It's really difficult to find any major disadvantages though – it's all really subjective.
Pros
Great Tone
Beautiful Finish
Comfortable Neck
Perfect For Professional Musicians
Case Included
Cons
Apart from the stunning look and amazing tone, the J45 also comes with a high quality case. This is a big advantage, because it saves you a lot of time. Finding the right case can be a real challenge, but thankfully Gibson took care of that problem.
In my opinion, the biggest disadvantage of Gibson J45 Standard is the high price. Some may say that it's overpriced, but I don't agree with that statement. I think that it's definitely worth that amount of money!
It's very unlikely that you'll experience any factory flaws in that guitar – the finish is amazing and it's made with a thorough precision and attention to detail. The quality control in Gibson's factory in the US is really high these days!
J45 Standard vs Studio & Original
As you're probably aware, Gibson has a lot of exceptional guitars in their offering. The most popular J45 versions are:
Gibson J45 Standard
Gibson J45 Studio
Gibson J45 Original
All of these guitars are really similar, but there's a few minor things that differentiate them. Of course, there's also the price difference as well.
It is really tough to clearly determine which one of these models sounds best – it's all really subjective. That's why comparing all of these guitars directly may be the best option for those who can't decide which model to buy.
Here's a really good video that compares all of these guitars – feel free to check it out below.
Better Than Epiphone J-45?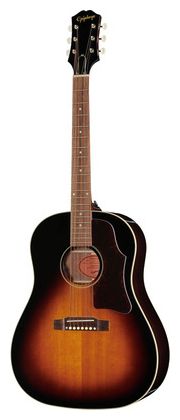 For those who are not aware, Epiphone manufactures much more affordable versions of legendary Gibson guitars. Hence, a lot of guitarists decide to get the Epiphone J45 instead of the high-end Gibson J45.
I have to admit that I totally understand that. Buying an expensive guitar like Gibson can be really challenging. Out of my experience Epiphone guitars usually feature a really good quality. However, they're far from being perfect.
This particular model comes from the 'Inspired by Gibson' Collection. It looks similar, but it has a bit different pickguard. Additionally, it sounds and feels a bit differently too.
In my opinion, Gibson J45 is way better than Epiphone J45. But considering how affordable the Epiphone model is, it's still a fantastic choice for everyone who's looking for a great sounding mid-level acoustic guitar.
Here's a really good video that directly compares both of these guitars – feel free to check it out below.
Cheaper Alternatives
If you can't afford getting the Gibson J45 Standard or you simply have a feeling that this guitar won't be a good fit for you, that's not a problem! There's still quite a lot of other fantastic acoustic-electric guitars that also deserve a lot of attention. Of course, it all depends on the size of your budget and your personal preferences.
Here's a few more acoustic-electric recommendations based on my own experience.
Firstly, I highly encourage you to check out Takamine P5DC. This is a fantastic acoustic-electric guitar suitable for the most demanding guitarists out there. In comparison with the J45, it's a bit cheaper and it features a cutaway, so it's perfect for guitarists who like to use the highest frets. What a beautiful guitar!
Alternatively, you can also check out a few of of the models manufactured by Martin. I particularly recommend checking out the Martin DX Johnny Cash Signature. This is a really cool and affordable model which exceeds all the expectations. If you're a fan of Johnny Cash, this guitar may be a perfect fit for you.
Additionally, there's also Takamine GD11MCE. This particular model is entirely made of mahogany wood, so it features a really unique and warm tone. It's perfect for fingerpicking and fingerstyle playing, so if that's your kind of vibe, you should definitely spend some time to consider adding it to your collection.
FAQ
Where is Gibson J45 Standard made?
Gibson J45 Standard is manufactured in the United States.
Who played on Gibson J45?
Gibson J45 was used by a lot of professional musicians throughout their careers. That includes: Bob Dylan, Elvis Presley, Bruce Springsteen, Buddy Holly, Alex Turner, David Gilmour and many, many more!
Is Gibson J45 easy to play?
Yes, the J45 is model is really easy to play! It comes with a great setup so it guarantees a comfortable and enjoyable playing experience.
What Martin guitar is comparable with Gibson J45?
The J45 model usually competes with Martin D28. These guitars have a lot in common and they're equally amazing!
Where can I find out more about Gibson guitars?
If you want to learn more about that legendary American manufacturer of guitars, make sure to check out the official website of Gibson.
Summary
As you can see, Gibson J45 Standard is an absolutely amazing acoustic-electric guitar. It's really difficult not to fall in love with that model – it has everything that you need. I'm sure that anyone who's searching for a high-end acoustic guitar will be really satisfied after choosing this axe.
What do you think of this model? Would you get it for yourself or do you think that it's a bit overpriced? Leave a comment down below and let me know what you think, I'm really interested to hear your thoughts about it!
Thanks for checking out today's review, hopefully it was helpful. If you enjoyed this article and you're searching for more gear recommendations, you may also like: