If you're wondering if Gibson Flying V is a good electric guitar or not, don't worry – you've come to the right place! In today's in-depth review, I'm going to take a very close look on that iconic model. You either love or hate these guitars, but are they actually worth the money?
The truth is that Gibson Flying V is an absolutely killer axe. This is one of the most iconic electric guitars of all time. It's really versatile and it sounds awesome, so it's definitely worth the money!
Let's dive deeper with research to find out what exactly makes the Flying V so good and so popular all around the world. Firstly, we'll have a look at the detailed specs and pricing of that guitar. Additionally, we'll investigate the main pros and cons of that model. Of course, there will be a few sound demos included as well!
Specs & Pricing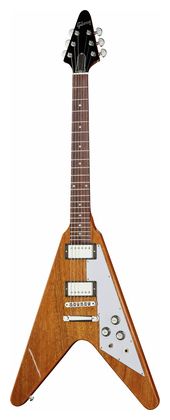 Gibson Flying V Antique Natural is a high quality electric guitar suitable for the most demanding guitarists out there. This particular model is heavily inspired by the legendary '58 Flying V.
What makes it so special? Well, the guitar features a comfortable and lightweight mahogany body, a SlimTaper mahogany neck and easy-playing rosewood fingerboard. This is a big advantage, because it allows you to practice for several hours without getting tired.
The manufacturer equipped this model with a pair of high quality Burstbucker humbuckers. These pickups have a really similar tone to the famous PAF humbuckers that were frequently used in these models in the past. That sound is absolutely timeless!
It is also worth mentioning that this Antique Natural model looks fantastic from the outside too. I'm sure that a lot of you will really appreciate that killer design. Surely, it will draw a lot of attention the next time you'll take it with you on stage!
When it comes to pricing, just like any other Gibson guitar – it's quite expensive. However, in my opinion it's not overpriced at all. In the end, the gear from the highest shelf is never cheap! That's why I believe that it's definitely worth the money.
Here's the video review and sound demo of that model – feel free to check it out below.
Who Is Gibson Flying V For?
Gibson Flying V Antique Natural is suitable for players of all levels. It doesn't really matter whether you're a skilled guitarist or not – you will definitely appreciate the high quality of that model.
However, since it's a pretty expensive instrument, it's mainly used by intermediate and professional musicians. This is a great axe to play gigs and record songs with. If you're playing in a rock or metal band, the Flying V will be perfect for you.
It is also designed for people who are looking for the best gear available on the market right now. The high price may be discouraging, but let's face the truth – the coolest guitars from the highest shelf are never cheap.
Overall, I'm positive that the vast majority of guitar players will appreciate the uniqueness of the Flying V. It's not for everyone, but it's one of these guitars that you just have to try at least once in your life. There's a high chance that you're going to fall in love with it!
Here's an another sound demo.
Pros And Cons
Just like any other electric guitar, Gibson Flying V has its own advantages and disadvantages. Don't worry though – it's all really subjective and there's nothing to be afraid of when it comes to the quality of that model.
Pros
Great Tone
High Versatility
Beautiful Finish
Comfortable Neck
Included Case
Cons
High Price
This Body Shape Is Not For Everyone
As you can see, the Flying V has a lot of great advantages. It sounds, looks and feels absolutely amazing. Who needs anything else? It also comes with a high quality case, so you can immediately take it with you to your next live show!
On the other hand, it's a pretty expensive guitar. I think that it's the biggest disadvantage of that model. Apart from that, you also have to be aware that this body shape is not suitable for everyone – it may be uncomfortable for some guitarists. Especially for those who like to play while sitting down!
It's extremely unlikely that you're going to experience any kind of factory flaws in that model. That's why I believe that the advantages of that model outweigh the disadvantages of that guitar. It's definitely worth the money!
What About Epiphone Flying V?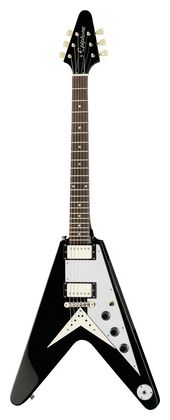 Epiphone Flying V is a very popular electric guitar among the guitarists who don't want to spend that much money on a Gibson guitar. It's really debatable whether it's a better choice or not – it comes all down to your own preferences.
This particular model comes from 'Inspired by Gibson' Collection. It features a mahogany body, a mahogany SlimTaper C-shaped neck and smooth Indian Laurel fretboard. It also has the LockTone Tune-O-Matic bridge which improves the tuning stability.
Epiphone equipped this model with a pair of ProBucker humbuckers, which offer a really nice and punchy tone. They aren't as good as the Burstbucker pickups in the original Gibson Flying V, but they still give you access to a wide range of great tones.
Personally, I think that the quality of Gibson guitars is always better than the quality of Epiphone guitars. It's totally understandable, because Gibson guitars are made in the US and their quality control is really on point.
However, it doesn't mean that the Epiphone Flying V is bad. In fact, it's still a great and a much more affordable guitar. It will definitely be much easier to save up on that guitar, but at the same time, this guitar is not as good as the original Gibson.
Here's the quick sound demo of that guitar – feel free to check it out below.
Who Played On The Flying V?
As you already know, the Flying V is one of the most iconic Gibson guitars of all time. This particular model was frequently used by a lot of famous guitarists throughout the years.
The most famous musicians who played on the Flying V include:
Jimi Hendrix
Billy Gibbons (ZZ Top)
Keith Richards
Tom Petty
Eddie Van Halen
James Hetfield
Kirk Hammett
Albert King
and many, many more!
If you want to see the full list of guitarists who played on the Flying V guitars, here's a really good article about it – I highly encourage you to check it out.
Cheaper Alternatives
If you don't like the sound of Gibson Flying V or you simply can't afford it right now, that's not a big deal! The market is full of other fantastic guitars too. Of course, it all depends on what kind of music you want to play and how much are you willing to spend.
Here's a few more gear recommendations based on my own experience.
Firstly, you should definitely consider getting the Epiphone Explorer. This is an another fantastic electric guitar which can easily compete with much more expensive Gibson models. It's perfect for rock and metal! If you're looking for the best value for the money, this guitar will be perfect for you.
Alternatively, you can also check out Ibanez RGA42HP. This model is a part of the High Performance Series, so it's designed for all lovers of playing fast. If you're digging the shredding vibe, this should be an excellent fit for you. On top of that, it's far more affordable that Gibson Flying V!
Additionally, perhaps choosing one of the ESP LTD guitars will also be a good choice for you. I recently wrote an article about 10 Best ESP LTD Guitar For Rock and Metal, so if you like these genres of music and you're looking for a new guitar, there's a high chance that your dream guitar is on that list.
Nevertheless, Gibson Flying V is one-of-a-kind, so it's really tough to compare it with anything else on the market. It will be really difficult to beat that iconic model!
FAQ
Where is Gibson Flying V made?
Gibson Flying V is made in the USA.
When was the first Flying V released?
Gibson released their first Flying V guitar back in 1958.
Where can I find out more about Gibson guitars?
If you want to learn more about that legendary manufacturer of guitars, make sure to visit the official website of Gibson.
Summary
As you can see, Gibson Flying V is a truly exceptional electric guitar. Although it's not for everyone, I'm sure that a lot of you will immediately fall in love with it. This is definitely one of the most iconic guitars of all time!
What do you think of that model? Would you add it to your own collection or do you think that it's overrated? Leave a comment down below and let me know what you think, I'm really interested to hear your thoughts!
Thanks for checking out today's review, hopefully it was helpful. If you enjoyed this article and you're searching for more gear recommendations, you may also like: