If you're thinking about getting the high-end Gibson Explorer Custom EB GH and you're not sure if it's actually worth it, look no further! In today's in-depth review, I'm going to take a very close look on that axe. It seems to be a dream guitar, but is it really that good?
The answer is YES! Gibson Explorer Custom EB GH is a spectacular electric guitar suitable for the most demanding guitarists out there. It certainly looks, feels and sounds like a high-end guitar. At the same time, it's really versatile!
Let's dive deeper with research to find out what exactly makes the Explorer Custom model so good and so popular among the professional players all around the world. Firstly, we'll start with the overview of the specs and pricing. Of course, there will be a few sound demos included as well!
Specs & Pricing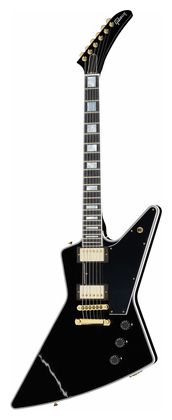 Gibson Explorer Custom EB GH is a high quality limited edition electric guitar that exceeds all the expectations. This is a guitar from the highest shelf, so it guarantees an absolutely amazing quality.
What makes it so special? Well, the guitar features a mahogany body, a comfortable mahogany neck and smooth ebony fretboard. This is a big advantage of that guitar, because it allows you to practice for several hours without getting tired! There's also a hardshell case included as well.
What's important, the manufacturer decided to equip this model with two high quality pickups – 490R (neck) and 498T (bridge) humbuckers. These pickups are really similar to the famous Gibson '57 humbuckers, so they feature the inimitable Gibson tone with clearer upper mids.
It is also worth mentioning that the Explorer Custom looks amazing from the outside too. The finish is absolutely beautiful and there's something really special about the combination of black color with gold hardware. Surely, it will draw a lot of attention the next time you'll take it with you on stage!
When it comes to pricing, let's be honest – it's an expensive guitar. Some guitarists may think that it's way overpriced, but the truth is that the best gear on the market is never cheap. This Custom model is often considered as a dream guitar, so it's totally understandable why it's expensive.
Here's a sound demo – feel free to check it out. It sounds awesome, right?
Who Is Gibson Explorer For?
Gibson Explorer Custom is designed for both amateur and professional guitar players. No matter how advanced you are on, you will definitely fall in love with the top quality of that model. However, since it's a really expensive model, it's mainly used by intermediate and working musicians.
Just like any other Explorer guitar, it's really versatile. It's mainly designed for heavier genres of music, so it will be perfect for rock, grunge, punk and metal. It works amazingly with pedals as well, so you can be sure that it will be one of the best sounding electric guitars that you ever played.
Considering the fact that this is a limited edition model, it's also a perfect guitar for any passionate guitar collector. It's a pretty rare model, so it can potentially be a good investment too – it shouldn't lose its value.
I'm positive that the vast majority of guitar players will appreciate the uniqueness and awesomeness of that Custom Explorer. Apart from the high price, there's just nothing to complain about. That's for sure!
Here's an another sound demo.
Is Gibson Explorer Custom Overrated?
Many guitarists may wonder whether getting a guitar from this price level is actually worth it. Are these expensive custom Explorer guitars actually better than cheaper 70s or Antique models?
In my opinion, there's no clear answer for that question. I think that it's all based on your own personal preferences. If you're searching for the best guitar for the money, choosing a cheaper Gibson Explorer may be a better choice for you.
However, if you're searching specifically for a high-end custom model which is not that common, you should definitely consider getting the axe reviewed in today's article. It's expensive, but it offers the best possible quality and attention to detail.
As a huge fan of Gibson guitars (especially Explorers!), I'd say that this model is not overpriced. It's not cheap, but it's designed for a specific group of people who's searching for the best gear on the market. If you're on a tight budget, go with Epiphone!
What About The Epiphone Explorer?
Those who can't afford getting the legendary Gibson Explorer often decide to choose a much more affordable guitar – Epiphone Explorer. This is a really good guitar too, although it will never be on the same level as Gibson.
However, Epiphone Explorer still offers a great value for the money. It's a perfect solution for guitarists who are looking for a cheaper guitar of this type. It's perfect for rock and metal and it's really well made.
In my opinion, the sound of Gibson Explorer is fuller. Perhaps that could be improved in Epiphone by upgrading the pickups, but the overall quality (finish and attention to detail) is much better in the US-made Gibsons rather than in Epiphone Guitars.
Here's a great video that compares both of these guitars – feel free to check it out below and decide for yourself!
Alternative Options
If you don't like the sound of Gibson Explorer Custom EB GH or you simply can't afford it right now, that's not a problem! There are still a lot of other really good electric guitars that offer a great quality too. Of course, it all depends on what you're searching for and how much are you willing to spend.
Here's a few other gear recommendations based on my own experience.
Firstly, if you're searching for a guitar from the highest shelf, but the Explorer Custom is not for you, perhaps you should check out the ESP KH-2 Vintage. This is a signature model of Kirk Hammett, the lead guitarist of Metallica. It's a fantastic axe suitable mainly for rock and metal, so if that's your kind of vibe, you should definitely check it out.
Alternatively, you can also consider getting the Fender American Professional II Telecaster. This is one of the best Teles that are currently made by Fender. It's way more affordable than the Gibson Explorer Custom, but at the same time it's still a guitar from the highest shelf. Surely, a lot of you are going to love it!
If your budget is not high and you'd like to explore other options (such as hollow and semi-hollow body guitars), perhaps choosing Epiphone Riviera will also be a good choice. This is a fantastic semi-hollow body model suitable for both amateur and more intermediate players. Whether you want to practice at home, play gigs or record in the studio – this guitar can do it all.
FAQ
Where is Gibson Explorer Custom made?
Gibson Explorer Custom is manufactured in the US.
Why are Gibson guitars so expensive?
Gibson is one of the most recognizable and legendary guitar brands of all time, so it's totally understandable why their instruments are expensive. Of course, the quality of their guitars is always really good too!
Who uses Gibson Explorer?
Gibson Explorer is used by a lot of great musicians all around the world. That includes Dave Grohl, Gary Moore, Neil Young, Pete Willis and many more!
Where can I learn more about Gibson?
If you want to find out more about Gibson guitars, check out their official website.
Summary
As you can see, Gibson Explorer Custom is an amazing electric guitar. Although it's expensive, it's worth the money. If you're okay with spending that amount of money on new gear, you can be sure that you will be really satisfied with the quality of that axe. It's a real dream guitar!
What do you think of that Explorer model? Would you get it for yourself or do you think that it's overrated? Leave a comment down below and let me know what you think, I'm really interested to hear your thoughts!
Thanks for checking out this review, hopefully it was helpful. If you enjoyed this article and you're looking for more gear recommendations, you may also like: