If you're wondering if Gibson 1936 Advanced Jumbo is a good acoustic guitar or not, don't worry – you've come to the right part of the Internet! In today's in-depth review, I'm going to take a very close look on that unique high-end model. It's a really expensive guitar, but is it actually good?
The truth is that Gibson 1936 Advanced Jumbo is a spectacular acoustic guitar. This is a flawless sounding instrument. Although it's expensive, it's definitely worth it. Especially if you're a fan of vintage gear!
Let's dive deeper with research to find out what exactly makes this model so good and so popular among the passionate guitarists. Firstly, we'll have a look at the specifications of that model. Additionally, we'll investigate the potential flaws of that guitar. Of course, there will also be a couple of sound demos included as well!
Specs & Pricing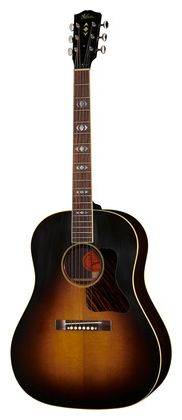 Gibson 1936 Advanced Jumbo is a high-end acoustic guitar which is a part of the famous Historic Series. This model is heavily inspired by one of the most iconic pre-WW II acoustic guitars of all time. It has absolutely everything that you need from a vintage acoustic guitar!
What makes it so cool? Well, the guitar features a top made of thermally aged red spruce and the back and sides made of solid rosewood. There's also a unique mahogany neck with the Historic AJ Shape and an easy-playing rosewood fretboard.
The sound of the 1936 AJ model is absolutely amazing – it's full, rich and resonant. No matter whether you prefer fingerstyle playing or strumming, this guitar won't disappoint you. Even the simplest chords sound beautifully on that guitar!
Of course, the guitar comes with an included case which also offers a very high quality – you can be sure that it will protect it very well.
When it comes to pricing, just like any guitar from Gibson's Historic Series – it's pretty expensive. However, considering the fact that this model is one-of-a-kind, the high price is totally understandable.
Here's the sound demo – feel free to check it out below.
Who Is It For?
Gibson 1936 Advanced Jumbo is designed for passionate guitarists who know what they're searching for. This guitar can also be efficiently used by amateurs, but since it's a very expensive model, it's not the most affordable option to start with out.
It is also worth mentioning that this is a very versatile instrument which can be used for a lot of different styles of music. Undoubtedly, it's perfect for both strumming and fingerpicking. Whether you're into folk, country or blues, you will definitely enjoy playing on that high-end model.
This is also a fantastic guitar for anyone who loves vintage guitars. Although it's a brand new guitar, it has a very characteristic oldschool vibe. Since the original guitars from the '30s can be even more expensive, this seems like a great alternative.
Overall, I'm positive that the vast majority of guitar players will appreciate the uniqueness of Gibson 1936 Advanced Jumbo. There's nothing to complain about – it's flawless. The price may be discouraging, but it's definitely worth it!
Here's an another sound demo.
Is Gibson 1936 AJ Overrated?
Many guitarists may wonder if getting a quality for such a high amount of money is actually a good idea. In the end, there are hundreds of cheaper guitars that also offer a really good quality! It's understandable that quite a lot of guitar players believe that guitars like the 1936 AJ are overrated.
However, in my opinion the 1936 AJ model is not overrated at all. This is something more than just a great guitar – it's just one-of-a-kind.
So if you're looking for just an another good guitar, this model won't be a good fit for you. But if you want to get something truly exceptional that holds a very special value, you're going to fall in love with Gibson 1936 AJ.
Here's an another sound demo.
Other High-End Acoustic Guitars
If you have a feeling that this high-end Gibson 1936 is not the right for you or you simply can't afford it right now, that's not a problem! There's still a lot of other fantastic acoustic guitars out there. Of course, it all depends on the size of your budget and your personal preferences when it comes to guitar body shapes.
Here's a few other great high-end models that also deserve a lot of attention.
Firstly, you should definitely check out Gibson J45 Standard. This is one of the most popular models created by Gibson. It's far more affordable than the 1936 AJ model and it offers an absolutely amazing quality. Of course, it doesn't have the same vintage vibe, but it's still perfect for professional and passionate guitarists.
Alternatively, you can also check out Takamine P5DC. This is an another high-quality guitar suitable for the most demanding guitarists out there. It's designed for professional musicians, so it's an ideal instrument to gig and record with. If that's what you want to do, you should definitely check it out!
Additionally, there's also Taylor K24CE V-Class. It's a bit more expensive than Gibson 1936 AJ, but it's a real piece of art. In my opinion, it's one of the most beautiful acoustic guitars that are currently being manufactured. It has absolutely everything – a stunning look, a beautiful tone and it's perfectly made.
FAQ
Where is Gibson 1936 Advanced Jumbo made?
Gibson 1936 Advanced Jumbo is manufactured in the United States.
Where can I find out more about Gibson?
If you want to learn more about that legendary manufacturer of guitars, check out the official website of Gibson.
Summary
As you can see, Gibson 1936 Advanced Jumbo is an absolutely fantastic acoustic guitar. Although the high price of that model can be really discouraging, the truth is that it's definitely worth the money. I'm sure that a lot of you will immediately fall in love with that instrument!
What do you think of that acoustic guitar? Would you get it for yourself or do you think that it's overrated? Leave a comment down below and let me know what you think, I'm really interested to hear your thoughts!
Thanks for checking out today's review, hopefully it was helpful. If you enjoyed this article and you're searching for more gear recommendations, you may also like: