If you're thinking about getting the Epiphone Explorer and you're not sure if it's worth it or not, look no further! In today's in-depth review, I'm going to take a close look on that unique axe. It's definitely much more affordable that Gibson Explorer, but is it actually good?
The truth is that Epiphone Explorer is a fantastic electric guitar. It offers plenty of punch thanks to the two humbuckers, so it's great for rock and metal. This is a great alternative option for those who can't afford getting a Gibson Explorer.
Let's dive deeper with research to find out what exactly makes this Explorer model so good and so popular among the guitarists all around the world. Firstly, we'll have a look at the detailed specifications of that guitar. What's more, we'll check out the main advantages of that axe and we'll compare it with the Gibson.
Specs & Pricing
Epiphone Explorer is a mid-level electric guitar suitable for the most demanding guitarists out there. Just like the classic Explorer model created by Gibson back in the late '50s, it features an aggressive look and the iconic body shape.
What makes it so good and popular? Well, this particular model features a solid mahogany body, a comfortable mahogany SlimTaper neck and easy-playing Indian Laurel fretboard which guarantees an enjoyable playing experience. There's also a LockTone Tune-o-matic bridge and stopbar tailpiece, which significantly improves the sustain and tuning stability
What's important, the manufacturer equipped this model a pair of really good humbuckers – ProBucker Alnico II. These pickups are really powerful and they're perfect for rock and metal, but they're capable of delivering some sweet cleans as well. Undoubtedly, it's a very versatile axe.
It is also worth mentioning that the Epiphone Explorer looks fantastic from the outside too. Since it's heavily inspired by the 1958 classic, it certainly looks and feels like a classic Explorer guitar. Of course, the logo on the headstock is different, but it definitely appears like the
When it comes to pricing, it's not exactly a cheap guitar, but it's definitely not as expensive as the famous Gibson Explorer. In fact, this is actually the cheapest Explorer guitar that you can find on the market right now. That being said, it's definitely worth the money!
Here's the sound demo.
Who Is It For?
Epiphone Explorer is suitable for guitarists of all-levels. It doesn't really matter whether you're an amateur or a professional musician – you will definitely enjoy and appreciate the high quality of that axe.
Just like any other Explorer model, it's designed to rock. It just makes you want to play some iconic Metallica or Foo Fighters riffs! If you like that kind of music, the Epiphone Explorer will be a good fit for you.
Since it's a very versatile instrument, it can be used on several different occasions. Whether you want to practice at home, rehearse with your band, play gigs or record in a studio – this guitar can do it all.
Additionally, as I mentioned before, this is the most affordable Explorer that you can find on the market. Considering how affordable it is in comparison with a high-end Gibson, it's a perfect option for guitarists who are looking specifically for an Explorer but they can't afford paying for a Gibson.
Overall, I'm positive that the vast majority of guitar players are going immediately fall in love with that guitar. The hype is real. It's a killer axe which is worth every cent. That's what I'm sure of !
Here's an another sound demo.
Comparison With Gibson Explorer
A lot of guitarists wonder if the difference between Epiphone Explorer and Gibson Explorer guitars is actually easy to notice.
In my opinion, both of these instruments are great, but I think that the Gibson Explorer is a slightly better guitar. I had a lot of Gibson guitars in my hands throughout the years and their overall quality (sound, finish and attention to detail) is just a bit nicer.
It's debatable whether getting a Gibson which sounds spectacular is better than getting an Epiphone which still sounds great. In the end, it all comes down to your preferences and your budget.
Here's a really good video that compares the sound of both of these guitars – feel free to check it out below.
Finding The Right Explorer Case
Since Epiphone Explorer has a really unique body shape, it's actually not that easy to find the right case for that guitar. It usually comes without an included gig bag, so you'll have to get it separately.
Quite a lot of generic cases and gig bags may not be a good fit for the Explorer. Before you choose a case for that model, check the size of the case to confirm if it's going to fit inside or not.
Alternatively, you can also choose a case made by Epiphone specifically for the Explorer guitars. It's not that easy to find, but it's available on Thomann (see below). It's not that expensive and it guarantees a high level of protection from all the scratches.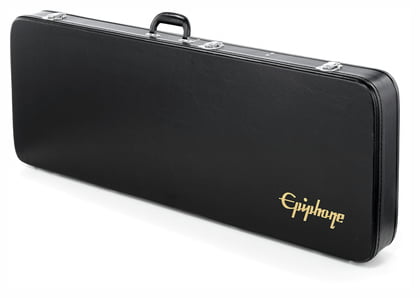 Epiphone LE Brendon Small Ghosthorse Explorer
If you're not satisfied with the sound of the regular Explorer, perhaps you should also check out the Epiphone LE Brendon Small Ghosthorse Explorer. This is a signature model of Brendon Small, the creator of Metalocalypse.
In comparison with the regular Explorer, this particular model features the Flamed Maple Veneer Top. It also doesn't have a pickguard, so it looks a bit differently than the previous model. Does it look better? Well, I'll leave it for you to answer!
What's interesting, the manufacturer also equipped this model with the Floyd Rose FRT-1000 bridge. This is a really important upgrade, because it gives you access to even more guitar tones. Surely, all fans of metal music will be really satisfied with the fact that it has that type of bridge.
When it comes to pricing, it's a bit more expensive than the regular Epiphone Explorer, but it's still relatively affordable. Especially in comparison with high-end Gibson guitars! Surely, a lot of guitarists will be able to save up for it pretty quickly.
Here's the sound demo. Sounds pretty good, right?
Are There Any Alternatives?
If you don't like the sound of Epiphone Explorer or you simply can't afford it right now, that's not a big deal! There's still a lot of other really good guitars out there. Of course, it all depends on what kind of music you want to play and how much are you willing to spend.
Here's a few more gear recommendations based on my own experience.
Firstly, I highly encourage you to check out the Fender Player Plus Meteora HH. This is a brand new offset guitar made by Fender and to be honest, it exceeds all the expectations. Just like Epiphone Explorer, it's equipped with a pair of really powerful humbuckers. It's a bit more expensive, but it's one of the best guitars of this type available on the market.
Alternatively, you can also consider getting the Fender Special Edition Custom Telecaster. In my opinion, this is one of the most underrated Teles made by this legendary manufacturer. Not many people are aware of how good this guitar actually is. It's way more powerful than any other Fender Tele, so it's quite similar to the Explorer.
If you're on a tight budget, perhaps choosing the Squier Contemporary Active Jazzmaster HH will be the best choice for you. Although it doesn't have a Fender logo on the headstock, it's an absolutely killer axe. It also has a really thin neck which guarantees an enjoyable playing experience. What a guitar!
FAQ
Where is Epiphone Explorer made?
Epiphone Explorer is manufactured in China.
Is the Explorer model good for beginners?
Yes, it's a fantastic choice for beginners! However, this guitar can be efficiently used by intermediate and professional players as well.
Where can I find out more about Epiphone guitars?
If you want to learn more about that manufacturer of guitars, check out the official website of Epiphone.
Summary
As you can see, Epiphone Explorer is a fantastic electric guitar. In my opinion, this axe has everything that you need – a powerful tone, an aggressive look and a relatively affordable price. I have no hesitation in recommending this guitar to all guitarists who are searching for something really special.
What do you think of that model? Would you get it for yourself or do you think that it's overrated? Leave a comment down below and let me know what you think, I'm really interested to hear your thoughts!
Thanks for checking out today's review, hopefully it was helpful. If you enjoyed this article and you're looking for more gear recommendations, you may also like: