Affordable Wood Pedalboard – My Top Recommendations
If you're a guitar player, you know how important it is to have a nice and tidy pedalboard. Especially when you start buying more guitar effects pedals! Indeed, a messy setup full of cables and effects can truly be a nightmare. That's why it's so crucial to keep everything tidy on a pedalboard. As an intermediate musician with over thirteen years of experience with guitars and effects pedals, I want to share my experience with you. Today I'm going to chat about the best pedalboards available on the market. Since wooden boards look absolutely unique, we're going to chat about them in detail. Let's rock n' roll!
Wood Pedalboard – Top Recommendations
Ruach Kashmir 3 – The Best Wood Pedalboard – See on Amazon
This great Ruach wood pedalboard features walnut and ash hardwoods. Its size is sufficient enough to use between eight to ten guitar pedals. Of course, it all depends on how big your effects are. What's interesting, these boards are truly handmade in Northern Ireland. In my opinion, this is an absolutely timeless extension of any guitar rig. Whether you're a beginner or an intermediate guitarist, this durable model will definitely last you for ages. On top of that, there is also the availability of installing an AC Pedalboard Power Inlet. Hence, it's one of the most customizable pedalboards on the market. I highly recommend this product! You will definitely be happy with its overall quality. No doubt!
Wood 2-Tier Platform Stand – Affordable Wood Pedalboard – See on Amazon
Another really affordable wood pedalboard. This board will be ideal for the beginners. What's interesting, you can fit up to twelve normal-sized guitar effect pedals on that thing. The material used for this board is Baltic Birch Plywood. Overall, this board looks absolutely great and it's pretty light. Although the quality of used materials may not be as amazing as in Ruach Kashmir, this wooden pedalboard will definitely do the job. Great option!
Wood 3-Tier Platform Stand – Really Spacious Wood Pedalboard – See on Amazon
The following pedalboard is really similar to the previous one. It's being manufactured by the same producer. This wooden board will be ideal for the most demanding intermediate guitarists. Certainly, it will be a perfect element of any home music studio. What I like about this pedalboard is that you can fit up to 24 (!) guitar effect pedals on it. Crazy, right? Similarly as the previous board, it's made of the Baltic Birch Plywood. Assembling the parts is also really simple. Indeed, if you have a lot of pedals and you want to keep everything under control, check out this board. It's amazing!
Other Gear Recommendations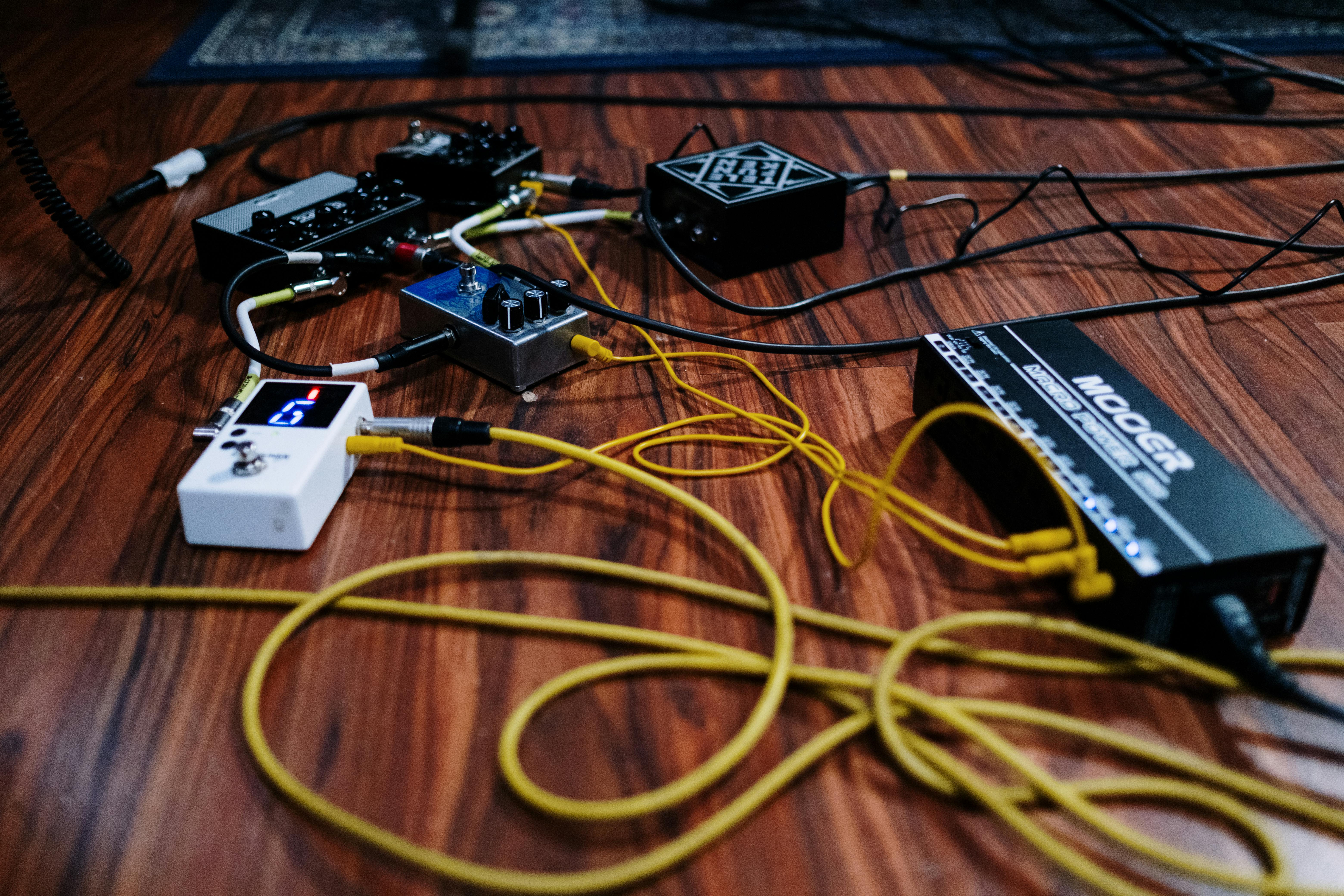 Ghost Fire Guitar Pedalboard – See on Amazon
Although we mainly covered wooden pedalboards in this article, I feel like it's also important to highlight this model. It's super cheap and really light weight. Ghost Fire pedalboard features the aircraft grade aluminium and it's available in a wide variety of sizes. What's more, it also comes with a carry bag. Although it's quite small and it fits only around four guitar pedals. It will definitely be enough for beginner guitarists. Hence, if you're just starting and you own only a couple of pedals, you should definitely consider this tiny board. Certainly, it's one of the best deals on the market right now. Personally, I would be really happy to choose that board!
This aluminium board is ideal for guitarists who own a lot of guitar effects pedals. Most importantly, it can fit up to ten compact pedals. It's made of aluminium alloy with a frosted surface. The quality is exceptional, hence you won't have to worry about any potential scratches. Another advantage of that board is the ability to fold its legs. Certainly, it saves a lot of space on storage and transportation. What's more, it also comes with a top quality carry bag. Thanks to the rubber pads underneath, you can be absolutely sure that your pedals won't get damaged. I highly recommend that board for both beginner and intermediate musicians!
Absolutely great and universal power supply for all guitar pedal effects that are battery-powered. What's important, it features eight fully isolated outputs. On top of that, it's handmade in the USA and it comes with a 5 year guarantee. Pretty solid, right? This power supply is a perfect solution for everyone who wants to keep their pedalboards under control. Instead of using batteries or separate power supplies for each pedal, try using this thing for everything. You won't be disappointed!
Fender Tweed Pedalboard Case – See on Amazon
This 3-ply wood lockable pedalboard case is certainly a really interesting option for guitarists who are often on the go. Most importantly, it comes in a few different sizes. Whether you get the smaller or larger sized version, you can expect a really high quality. If you're an intermediate guitarist, you most likely know how good Fender instruments are. Although they don't necessarily focus on pedalboard cases, this model will definitely be a perfect solution for a lot of musicians. If you're a singer-songwriter or if you play in a band, I highly recommend choosing that case. You will definitely be able to keep everything safe and unider control while in transit! I truly recommend it.
Wood Pedalboard – My Thoughts
As you can see, there's quite a few really good wooden options available on the market. Personally, I would choose Rauch Kashmir 3. It may be quite expensive for some guitarists, although its quality is absolutely exceptional. Nevertheless, the other two wooden options mentioned in this article are still absolutely great. On the other hand, you can also check out the pedalboards made of aluminium. This gear may not look as cool as models made of wood, but it will definitely do the job. What about you? Which pedalboard would you choose? Let me know in the comments below. Thanks!
______
The creator of Best Guitars Now, is an intermediate musician with more than 13 years of musical experience. The purpose of this site is to create a place for other musicians to discuss musical equipment, highlight the best affordable guitars and find out the best ways to learn guitar playing.
Thanks for checking out my blog!