In today's article we're going to highlight the best guitar website for learning guitar playing – Fender Play. If you don't know what it is, you should definitely keep on reading. As an intermediate guitar player, I know how difficult it is to start your musical journey. You bought your first guitar, learned a few simple chords or melodies and… now what? Things can get really tough. That's why I highly recommend choosing Fender Play to support your growth as a musician. Let's highlight this platform and find out why you should give it a try. In addition, if you click on the link below, you will be able to start your free trial.
Best Guitar Website For Learning – Fender Play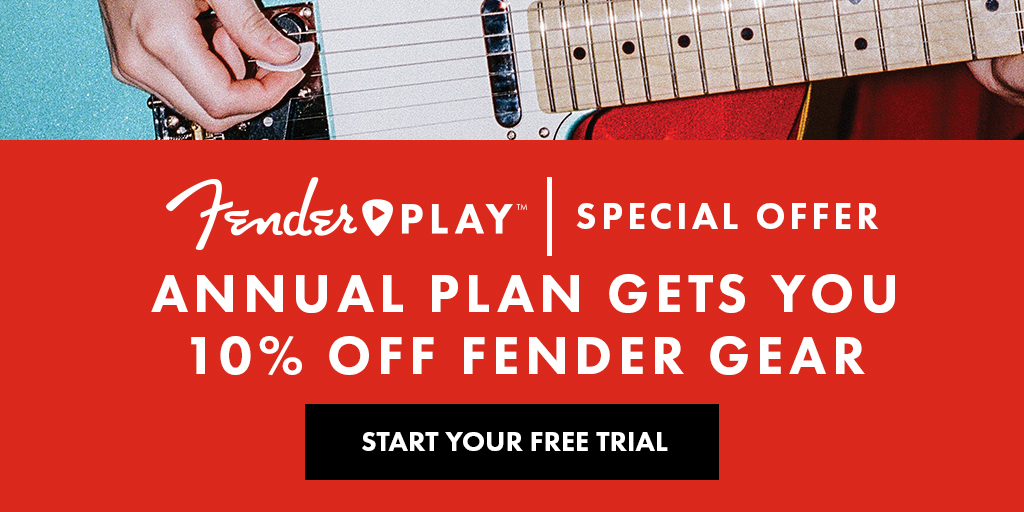 Fender Play is an innovative platform aimed at all-level musicians. Whether you're an amateur who wants to learn the basics about guitars or if you're a more advanced player, they got you covered. Moreover, thanks to the platform you will be able to expand your playing skills on guitars, bass guitars and ukuleles. It's an absolutely amazing option, because you're not only limited to guitars. In addition, once you get access to the platform, you can learn all of these instruments in one go!
Quality Remote Learning
Fender is an absolute leader when it comes to guitars. Their iconic musical gear plays a vital role in the history of modern music. The company manufactures amazing instruments for both beginners players (like Squier Mini Strat) and intermediate players (Fender American Professional II). In addition, their guitars offer great quality at affordable prices. But most importantly, apart from guitars, they're absolutely great teachers! For example, check out this short promotional video below to find out more about Fender Play.
Progress Tracking
Did you know that the majority of beginner guitar players eventually give up on playing the instrument? Some sources indicate that 90% of guitarists actually give up! This is crazy. In my opinion, it's a result of poor learning techniques. People don't know what and how to learn and in the end, they stop playing the guitar. Tracking current progress is absolutely important if you want to actually make progress. With that in mind, Fender Play allows you to monitor what you've learned and find out exactly if you're making progress or not. In my opinion, this feature is a major advantage that makes this platform the best website for learning guitar.
Video Lessons
Fender Play offers amazing video lessons. In addition, all of the videos are available in high resolution. If you're a beginner, you will learn everything that you need:
how to hold the guitar
how to tune the guitar
basic chord shapes
strumming techniques
more advanced techniques
As a matter of fact, have a look at the lesson below. It's aimed for the more advanced players, but you can see how Fender Play looks like in practice. It's great, right? Well done, Fender!
Affordable Pricing
What's important, Fender Play offers great quality at really affordable pricing. In fact, you can be sure that it won't break the bank! Since a lot of guitar lessons are expensive, this is a major advantage of this platform. No matter if you're young or old, absolutely anyone can save up to join Fender Play and keep on learning with their video lessons!
Best Guitar Website For Learning – Conclusion
As you can see, Fender Play is an absolute must for all guitarists. If you're looking for a reputable website to help you with your musical growth, you should definitely try it. In my opinion, it will be ideal for both amateur and advanced players. If you're looking for more resources, you may also like: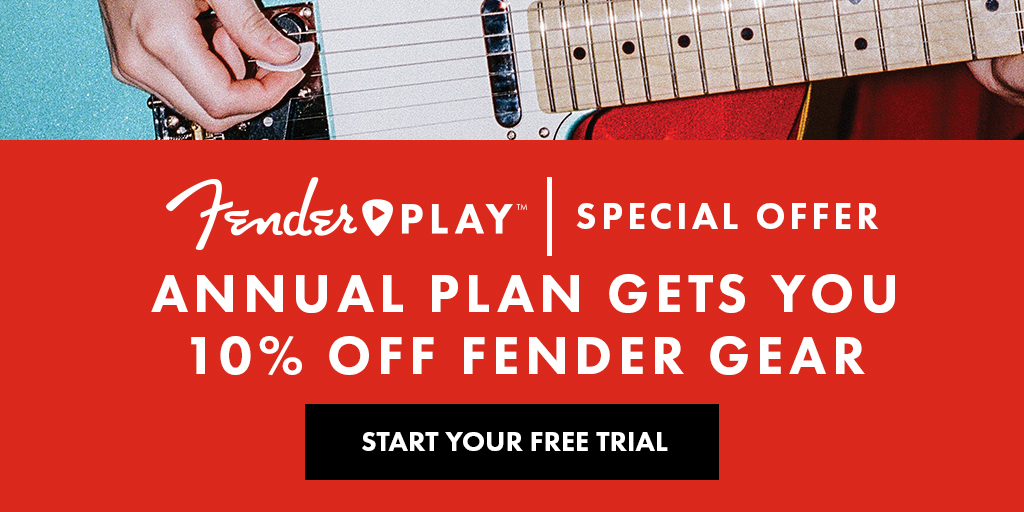 _____

Dave, the author of this blog, is an intermediate musician with years of significant experience in music industry. The aim of this blog is to educate beginner guitarists, highlight the most affordable gear and promote the best ways to learn guitar playing. Thanks for checking out Best Guitars Now. Feel free to share this article to spread the word about our blog!