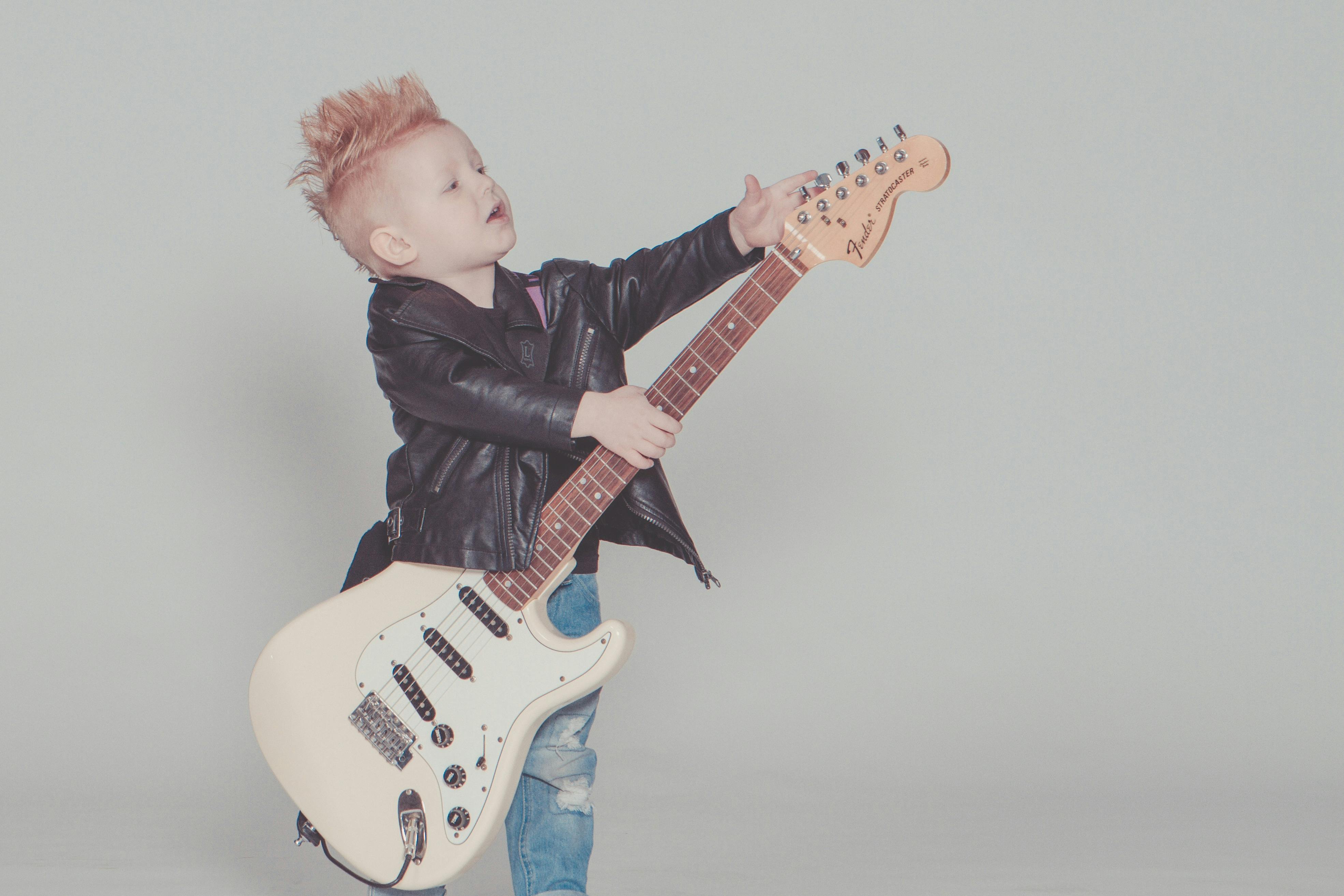 If you're considering buying a guitar for your child, don't hesitate. It is scientifically proven that learning to play instruments improves abstract reasoning skills and stimulates the brain cells. Kids who learn to play guitar have a perfect outlet for their emotions and creativity. What's more, when they make progress, they gradually get better at problem solving. Eventually, it leads to better grades at school and in adult life afterwards.

In today's article I'm going to briefly describe the best (and affordable) acoustic and electric guitars for kids. I will also tell you how much money you should spend to start this musical journey. There are also a few accessories that may be relevant in the future – we'll cover that too. Let's rock n' roll!

Top 5 Best Guitar For Kids (Acoustic):

Top 5 Best Guitar For Kids (Electric):

Best guitar for kids – should you choose an acoustic or an electric guitar?
In my opinion, both options are great as a first guitar. Personally, I started with an acoustic guitar as a kid and then I moved to an electric guitar. If you are a beginner, it doesn't really make a difference. Your child will have to learn the same basic chords. On one hand, the strings on electric guitars are thinner, therefore it is slightly easier to play. On the other hand, bear in mind that if you decide to buy an electric guitar, you will have to buy a guitar amp too. Hence, this can be a bit more expensive than a regular acoustic guitar. Nevertheless, you can always show both of these guitars to your kid and let him decide what suits them best!
How much should you spend?
You should be comfortable with spending a few hundred bucks for your kids' musical education. The internet is full of guitar toys which are really disappointing. You should avoid this kind of musical gear, because its poor quality can actually discourage your kid from learning to play the instrument. Moreover, the strings on these guitars break very fast.
Other necessary accessories
There are a lot of different accessories available for guitarists. Although these items are not extremely necessary, it would be great if you could also get it all for your kid. These other accessories include:
a guitar pick – to play not only with fingers
a capo – to experiment with new sounds
a set of spare guitar strings – it is always good to have a spare pair in case something breaks
a guitar strap – it is important for a child to learn to play while standing.
a guitar case or gig bag – to keep your kids' guitar safe.

What age is the best to start?
Some people argue what age is the best for a kid to start playing the guitar. Well, it really depends. YouTube is full of videos of three year olds who are absolutely amazing at playing instruments. Is that a healthy approach? I'm not sure. Nevertheless, most people say that the age between 5-7 is the best to start playing the guitar.
Best Guitar for Kids – Conclusion
It's great that you're considering buying a guitar for your kid! This investment is not too expensive and it actually may shape the path of your kids' life. Guitars are very often a life-long passion and someday your child is going to thank you for planting this seed at an early age. Making music strengthens self-confidence, trains patience and promotes intelligence. There are literally no cons of learning this skill. If you're still unsure about buying the guitar for your kid – take the risk. If the kid won't like it, at least you will know that you tried!

Want to buy a guitar amp? Check out this article to see what's affordable – Best Guitar Amp Under 300 Dollars.